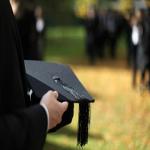 Personalize Your Springtime Gifts
Spring is full of major events each year, many of which involve celebrating family members and recent graduates. Father's Day is right around the corner, while graduation season is upon us. If you manufacture, distribute or sell products that are especially popular for these types of events and holidays, you can better position your brand for success by leveraging personalized Father's Day stickers and graduation day labels.
Let's look at these two matters individually.
Father's Day Label Considerations
Cigars, televisions, sporting goods, books and other items will be highly popular products around Father's Day, while grilling equipment and tools can also be favorites among consumers who are looking to recognize their dads this June. Labels and stickers should be printed to personalize the products, and give the individuals who are purchasing the items the opportunity to make their fathers feel truly special.
Personalization and customization have become two of the more prominent trends across consumer markets, with more individuals only purchasing and using items that have been crafted up to their unique preferences and expectations. The song remains the same when looking at gift-giving, and many children and mothers will likely be looking to find items that are really representative of their family patriarchs' liking.
You can also personalize your Father's Day labels to simply recognize the holiday itself and align your brand name with the widely recognized event.
Winning Graduation Day Stickers
Graduation day, whether it is from high school or a university, is a massively important event for students and their families. This accomplishment should never go unrecognized, and you can boost your products' appeal on the shelves by customizing the packaging and imagery of labels. No one is going to choose a bland, standardized gift for a graduate, and your brand image should pop to ensure that it is not overlooked by potential customers.
Remember that the events tend to occur in spring, and use imagery and designs that reflect the beginning of not only a new season, but a new chapter in the students' lives. Additionally, if you distribute and sell your products somewhat locally, or only in certain places, consider incorporating nearby schools' emblems to personalize, as this will certainly help to boost the numbers of items sold.
At the end of the day, make sure you are reflecting your brand image properly, and using techniques to better personalize your products for parents of children who are graduating.
The Right Label Provider
Custom stickers and labels are not the easiest to come by, especially when looking for high-quality items that are printed on time and delivered speedily. Lightning Labels provides lightning-fast completion of orders and offers custom stickers and labels to ensure that you have all of your product packaging needs met this spring.
With graduation season already underway and Father's Day right around the corner, the time is now to get moving on these projects and sending custom label designs to the printer.
Request your FREE instant quote today.