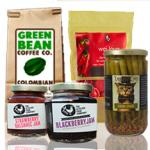 How to design a food label that gets noticed
Even though we're supposed to adhere to the old cliché, "don't judge a book by its cover," when it comes to products like food most people are initially drawn in by the label. If you know how to design a food label that's special it's sure to set your product apart:
Eye catching: The label needs to instantly grab someone's attention. Boring labels get passed right by in favor of something more intriguing. Designing a label that draws a customer in ensures your label will help make a sale or make a gift recipient happy.
Specific: Labels are not the place to ramble or load up images. Keep it simple and specific to the product. This will help whoever is reading the label from losing focus
Easy to read: Don't make a label that's challenging to understand. Descriptions should be short and simple in a font that's clearly legible.
Learn how to design food labels that pop
When deciding how to design food labels, remember they should be colorful but you don't need to use every color at your disposable. Choose colors smartly and make sure they tie back to what you're labeling. You can play off of a theme or incorporate colors of the food.
Nutritional information is important, especially if you're selling products. There needs to be information like how many calories there are per serving the food, sugar and carbs content and other nutritional requirements.
Labels can correspond to the time of year. If it's around the holidays, you can use colors or images that relate. Same goes for seasons. It it's spring, pastel designs might make more of an impact than heavier brighter colors because lighter shades are associated with the season.
Designing food labels should be fun
Designing food labels doesn't have to be a chore. This is a project you can have fun with and take pride in.
Creativity: Labels should show some personality. Tap into your creative side and it will come through in your finished product.
Customization: The labels, again, should be a reflection of you. While it's important to keep others in mind, especially for selling, if the labels are a reflection of yourself, it will connect people to the product.
For more information or to place an order, visit our custom food labels page. Or simply visit our Custom Label Quote page for an instant online quote!
Lightning Labels uses state-of-the-art digital printing technology to produce orders both small and large at competitive prices. We provide affordable, full-color custom labels and custom stickers of all shapes and sizes, a full line of custom packaging products, and top-of-the-line, personalized customer service. Visit Lightning Labels on the web today for the best prices for high quality, state-of-the-art custom label printing, 100% satisfaction guaranteed.
Request your FREE instant quote today.