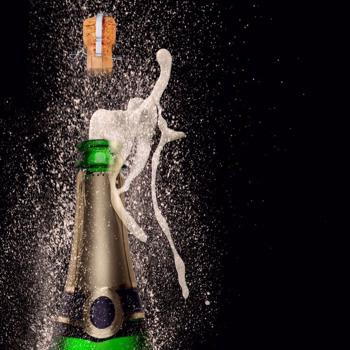 When you produce sparkling wine, you're creating products that people will turn to when they're celebrating accomplishments or enjoying nice meals. This means you'll have to convince shoppers that your items are high-quality beverages that will be a complement to their big events.
How will you create this impression? The best way to deliver a message to your target audience is through well-designed product labels. Bottle labels can convey important information about your sparkling wine's flavor while also creating an emotional impression about what your brand stands for.
When your brand uses high-quality champagne labels created by an expert bottle label printing partner, your sparkling wine products are free to sparkle on store shelves and attract a wide swath of customers.
What Makes a Great Champagne Bottle Label?
The concept behind a champagne label should be consistent, with every element coming together to make a unified, attractive design. Your chosen tone should reflect the way you envision customers interacting with your sparkling wine.
For example, if you're producing a bottle of upmarket champagne for people to drink during special events, you can go with metallic tones and elegant script to match the seriousness of the setting. In other cases, when you want to produce a fun sparkling wine that will go along with an everyday dinner, you can use much more casual, relaxed branding.
By looking at the 99 Designs inspiration gallery of champagne label design ideas, you can see the full spectrum of design cues. From golden bottles suitable for celebrations to elegant black-and-white labels, multiple aesthetics are present among the examples. There are even designs for canned sparkling wine that split the difference between craft beer design and champagne labeling.
You should also take into account what size of bottle label you'll have to work with when creating your design. If you intend to create a mini champagne bottle variant, for example, it pays to work with a logo and typeface that will look good on smaller-scale wine bottle labels.
What Are The Rules for Champagne Bottle Labeling?
The word "champagne" can be contentious. After all, the Champagne region in France is highly proprietary about the characteristics of its sparkling wines. According to U.S. regulations from the Alcohol and Tobacco Tax and Trade Bureau (TTB), champagne must receive its bubbly texture from its fermentation within glass bottles of one gallon or less, and have the characteristics associated with the champagne district's sparkling wines.
There are a few ways to refer to beverages that don't fully conform to that champagne standard. In addition to calling them "sparkling wines," you can add that they are a "Champagne style" or "Champagne type." If your business is based in the U.S., you can also use regional specificity to label your beverage. The TTB gives examples of American champagne, Napa Valley champagne and New York State champagne.
You will also need to specify how the sparkling wine differs from the traditional champagne-making processes, with terms such as "bulk process," "Charmat process" or "fermented outside the bottle".
These champagne-specific options go along with the standard labeling requirements for wine. Necessary features of wine bottle labels include the origin of the wine and the name of the brand, along with the name and address of the producer, the net contents of the bottle and declarations around sulfites and color ingredients. The wine label must also carry a standardized alcohol health warning label, along with a listing of the percentage alcohol content.
Once you've created a champagne label design that will appeal to your customers and verified that the wine label is in compliance with all relevant laws, you can get started producing your custom labels.
What Are Your Champagne Bottle Labeling Options?
Your champagne bottle labels are free to look their best when you focus on every little detail of the presentation, rather than just the text and imagery present on the labels' faces. This means picking a size, shape, label material and finishing treatment that perfectly complements your brand identity.
Size and shape: When you have access to die-cutting, you can produce labels that fit your bottles perfectly. Whether this means tiny labels to fit the unique shapes of mini champagne bottles or elegant oval labels that leave a lot of space on full-size champagne bottles, your design preferences can take precedence.
Label material and finishing treatment: Your choice of label material and finish can emphasize the type of impression you want to create with your champagne labels. Rough, papery textures evoke rustic vineyards, while sleek modern offerings can make buyers think about fun, elegant nights out.
Special effects (foil stamping and embossing): Champagne labels tend to look especially good when you add some extra flair. This may mean using hot foil stamping to infuse the labels with a metallic shine or embossing, which gives the labels a pleasing and sophisticated raised texture.
A combination of these special considerations with a well-chosen graphic design strategy can deliver a compelling look for your custom champagne labels. You should make sure your chosen label printer is up to the task of creating labels that live up to your ambitious design goals.
How Do You Find an Ideal Champagne Label Printing Partner?
To make sure your champagne labels look professional and hold up well on store shelves, you should turn to an experienced label provider that works with the highest-quality materials and processes. In other words, you should choose Lightning Labels.
For over two decades, Lightning Labels has helped companies of all kinds create suitable, well-crafted labels for their products. Since Lightning Labels uses adaptable digital printing processes, orders are available on quick timelines and in flexible quantities, from dozens to thousands. You can even receive assistance with graphic design to make sure your custom wine labels are showing your champagne products at their best.
Whether you need simple champagne labels printed on paper stock or more sophisticated designs that combine die-cutting, hot foil stamping and embossing, you can receive the exact labels you're looking for when you choose Lightning Labels. Request a quote now to find out what this means for your vineyard.