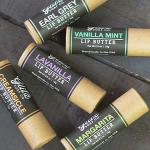 Whether you're protecting against summer heat or cold wind in winter, lip balm is always a useful product for your customers. Of course, there are dozens of brands to choose from when shoppers want to pick up a lip balm. How can you make sure they pick yours?
Lip balm packaging has a major role to play in capturing consumers' attention in stores. If you manage to combine expertly crafted branding with lip balm tube labels that fit the containers perfectly, you can create a professional visual appearance that will make your items the obvious choice.
Design Customized Lip Balm Labels Your Customers Will Love
A lip balm tube is, relatively speaking, a tiny container. Can you pack in enough branded imagery to draw shoppers' attention to such a small package? Only with the right approach to label design.
It's especially important to have a solid brand logo when your primary item is small, as is the case with a lip balm product. This logo should be clearly legible even when printed small and wrapped around a lip balm container. Large amounts of small text or extremely detailed pictures will go to waste, and aren't worth including.
When deciding what text to put on the label with the logo, you should focus on the required disclosures. Listing ingredients, net continents and other basic information take precedence over trying to include more brand information. The small size of a lip balm tube means overdoing it is a bad idea.
While there isn't much room on the surface of lip balm labels, you can make use of the space you do have with effective graphic design. For instance, you can try seasonal labels to remind customers that every season brings different risk factors for dry, chapped lips. Using a seasonal label design strategy to caution about bright summer sun or harsh winter winds can remind shoppers they need to buy lip balm before going outside, whatever the weather.
If lip balm is just one product in a line of items — for instance, if you also produce sunscreen lotion or moisturizer — you can coordinate your bath and body labels across all these goods. A solid, recognizable brand logo will help you attract one product's customers to try the others.
Find the Right Shape, Size and Label Material
Beyond lip balm label graphic design, there are extra ways to give your product visual appeal. Your choice of label shape, size and material can play a major role in making items look great on store shelves.
One of the most exciting options for lip balm tubes is the use of extended content labels. These are labels that peel off to reveal extra space on their underside. By choosing this type of custom label, you can alleviate issues with limited space and provide extra room for product information.
When it comes to more standard questions of custom lip balm label size and shape, you can succeed by picking labels specially designed for a lip balm container. By choosing a tamper-evident label shape designed to break when the cap is twisted off for the first time, you can provide extra peace of mind for customers, showing them the lip balm product hasn't been opened.
Picking a label material for your lip balm products means selecting a tough enough substrate to stand up to constant handling and usage. Ideally, your customers will hold onto your products for a long time after buying them, tossing the lip balm containers in pockets, purses or backpacks. This means you should select a strong label material that will keep looking great, even after being carried and used for weeks.
Get Ideal Lip Balm Labels from a Label Printing Partner
By selecting a professional label printer to create your customized lip balm labels, you gain access to all the features that will help your brand stand out, from graphic design consulting to the use of custom label sizes and strong label materials.
Lightning Labels is the ideal partner for your brand's next custom lip balm label design project. Boasting over 20 years of experience helping companies create effective custom product labels, Lightning Labels uses all-digital printing methods. This approach to label printing enables flexible order sizes and fast turnaround times.
With a labeling partner on your side, you can even go beyond standard retail options and start offering customized batches of lip balm, fully branded, that can serve as an event giveaway. This extra avenue for lip balm distribution can boost your sales significantly.
Working with Lightning Labels gives your brand access to a wide selection of label materials, along with options such as extended content labels and tamper-evident lip balm tube labels. By using these offerings, specifically designed with lip balm in mind, you'll be able to make the most of the small space on a lip balm container.
Ready to get started on a lip balm labeling strategy? Request a free quote now