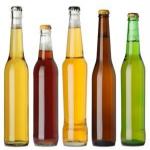 The craft beer industry has written the book on exciting label designs, with breweries constantly innovating to create visual spectacles that express a unique brand personality. This adds a little pressure when it comes time to create beverage labels for your own products. Whether you're introducing a new small-batch brew or crafting a formula that will hope to be on the market for decades, the branding on your craft beer labels is an inescapable part of the equation.
Consumers in liquor stores and beer aisles today have a huge amount of choices. The sheer variety of craft beers to pick from is potentially intimidating, and shoppers who have not tried your offerings before need a strong incentive to do so. This is where your custom labels come in, showing off the personality of your brand and making promises about the flavors contained within the cans and bottles. These packaging designs should be carefully though-out parts of an overall marketing strategy.
Creating the Perfect Craft Beer Label
There isn't one key to thinking up ideal craft beer label designs. Rather, there are several variables that ensure your brand is eye-catching and appealing. The following are some of these elements to consider when designing the perfect craft beer label, each of which can have a major impact on how customers perceive your brewery's products.
Think About Label Size and Shape
If you've chosen a nonstandard type of bottle or can for your beer, you may have no choice but to use beverage labels die-cut to suit those dimensions. Even if you are using the most common types of containers, however, interestingly shaped and sized labels may still be your best bet for catching customers' eyes. After all, when you use a small bottle label, the exposed glass can show off the color of your brew. Hop Culture demonstrated how effective this can be in practice, giving Mixed Culture's sour ales one of its "Best of 2019" awards and showing how the vibrant shades of the beer mixed perfectly with the minimalist art. Label materials matter, too. A matte texture creates a more modern-feeling than a rustic, rough label, for example.
Design Your Craft Beer Labels Around Your Brand's Identity
When you've selected the shape and size of labels that suit your needs, you have a blank canvas to fill with imagery. According to 99 Designs, your chosen pictures should be anything but random. Instead, there are many variables about your company that you can use as inspiration. Building a design that's based on your brewery's name is one way to create a unified look, as is evoking a specific visual style based on where you are located or your technique in producing the beer.
If you offer many varieties of beer, tying them all together with unified visual elements and a recurring logo is a valuable practice. Varying the color of your logo to distinguish the different flavors in your line is one way to both create a consistent identity and let buyers know what they're getting.
Include Required Information
While graphic design can be considered the fun side of label creation, you also have several pieces of information you are obligated to include, including classifying the contents: Is it a specific kind of beer? A malt beverage? A cider?
This, too, can become part of your branding, however. As 99 Designs pointed out, consumers want to know what kind of beer they're buying, so you should be bold and clear when labeling your product, whether it's a golden ale, an IPA, a lager, a sour, a stout or anything in between. Other requirements are less exciting but still need to be listed, including the volume of liquid in the container, the percentage of alcohol (though this may not be required in all states), a UPC code, and the name and address of your brewery.
Pick a Reliable Craft Beer Label Printing Partner
Beer can and bottle labels can vary widely based on who prints them, and mistakes can lead to delays in putting your products on shelves. You need sharp-looking, high-quality labels that are available quickly in an amount that suits your production capacity. A trusted partner such as Lightning Labels can deliver labels that meet your needs and help your brewery thrive.
Request your FREE instant quote today.