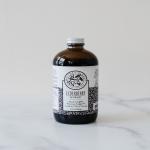 Flagship elderberry syrup gains popularity as a preservative-free immune booster
Years ago, pregnant Whitney Flood looked for a natural way to support her and her family's immune system during flu season. As a nurse and veterinary technician, she already was tuned into natural remedies. Upon discovering elderberry as a highly regarded natural supplement, she decided to start making it at home.
After continuing to refine the recipe, Whitney knew she had a winner when her toddler Colton said, "Mom this is your BEST!" And, so the "Whitney's Best" name was born, along with a growing business based in Manteca, CA, where initially street fairs and farmer's markets provided high-profile exposure.
Word-of-mouth led to increasing demand, and years later Whitney's Best has expanded its marketplace and line of products. In addition to a thriving online ordering portal, products are now in a variety of Northern California brick-and-mortar stores.
Besides the flagship 16-ounce bottle of elderberry syrup made with pure local honey, Sri Lankan sweet cinnamon and a unique blend of herbs and spices, Whitney's Best now offers a variety of teas and infuser options.
Husband Justin Flood notes that COVID-19 has increased demand, as elderberry syrup is known for its immune-boosting properties. "Right now, we're doing e-commerce from California to New York to Florida and everywhere in between, along with our local Northern California retailers. And we've added Draeger's Markets in northern California, driving more expansion," Justin notes.
Where Whitney's Best once had to lease out a commercial kitchen, they now have their own warehouse and kitchen and are fully licensed. Justin notes, "We had to get tested at UC Davis. A lot of people can sell but we wanted legitimacy, and given that there are not a lot of elderberry companies, we had to do some extra due diligence. We're very committed to maintaining pure ingredients and a truly handcrafted product."
Whitney points out, "Whitney's Best is a hobby turned business. I have a passion for wellness and for pure affordable products. After reading multiple studies on elderberry syrup coupled with my first-hand experiences, I resolved to make pure elderberry syrup easily accessible to others. Many elderberry syrups come in a tiny bottle with a large price tag and contain preservatives, refined sugars, dyes, magnesium stearate and other funky ingredients. Whitney's Best is affordable and contains no added nonsense! We use local honey and vacuum seal to preserve freshness without using preservatives."
A 16-ounce bottle costs $28, a 30-day supply for adults according to Justin. "Families often go through a bottle in a couple of weeks," he adds.
Clearly, their approach is paying off. Justin says, "We call our buyers clients, not customers because they stay with us. One client recommended us to Good Day Sacramento, which just aired a segment recently."
Relationship with Lightning Labels, the nutraceutical label printing specialist
"We're super pleased with Lightning Labels," notes Justin. "We wanted to do something special on our labels, in a gold foil color. We called other label companies, but only Lightning Labels said they could do it—using Chrome BOPP that looks like the gold foil color we wanted. Right from the get-go, it was easy, in part because of Jillian Anderson's good customer service. Ease of use now that we have a labeler also has proven a good fit. We're blown away by how the labels look!"
Request your FREE instant quote today.