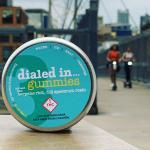 Dialed In…Gummies makes and sells small batch Liquid Gummies and Live Rosin Gummies (recreational and medical THC). Along the way, they're also making buyers informed, dialing up high product quality, and taking good care of their workforce.
Founded right before the pandemic, Denver-based Dialed In…Gummies made a commitment from day 1 to test products, educate, and provide "clean" solvent-free products.
Products contain QR codes directing consumers to photos, lab reports, hash maker notes, and other useful educational information.
Notes co-owner Keith Portman, "From the beginning, we've always had a passion to create the very best extracts available. Terpene rich, solventless hash made from ice, water, heat and pressure – in our opinion – is the very best extract available. Our unsettling obsession and internal pursuit was translating this into an edible product, something the cannabis market lacked."
He adds, "Our gummies are produced in small batches using a unique sous vide process and high quality ingredients derived from fruits and vegetables. Sous vide provides a precise, temperature-controlled manufacturing process. Every batch is infused with a solventless rosin processed from strain-specific collaborations with some of the finest cultivators in Colorado. Our process – while not simple – is essential for delivering the quality we are beyond excited to provide."
Keith notes that the sous-vide cooking process "allows us to retain high amounts of terpenes, flavonoids and cannabinoids that would otherwise be lost to evaporation. Sous vide requires us to produce in small batches, further guaranteeing a higher quality gummy and experience."
Terpenes, naturally occurring chemical compounds found in plants, impact aroma, taste, and how cannabinoids get passed into our bloodstream. They can help determine the sedative or stimulant qualities of the finished product.
The entire terpene discussion is part of the company's effort to educate and inform buyers about what they're getting and how it may impact them. Notes Keith, "There are not a lot of studies out there involving terpenes. There's more to it than classification as THC. For example, there are 20 terpenes. Everything together creates different effect. Full testing for every batch makes sure information is accurate. We're trying to build up data to demonstrate what terpenes do. We're talking with colleges and other educational centers to develop data to better predict what terpenes do and how they do it."
Ultimately, Keith points out, the aim is a cleaner, more predictable product—the result of creating small batches, finding the best growers, and testing from beginning to end.
As part of the company's continuous improvement initiative, social equality measures are included. Notes Keith, "We try to hire a diverse workforce, and offer pay that's better than most in the industry. We've invested in employees from get-go, and it's documented with ridiculously low turnover."
Relationship with Lightning Labels, the cannabis digital printing specialist
Notes Keith, "It's so nice working with Lightning Labels on products and designing labels. It's like Christmas for me. We work with the Lightning Labels design team every week. They stay on top of label quality. And, they've been able to turn around an order of 30 to 40 thousand labels in 24 hours. We get new packaging every week, then reach out and get labels next day."
For more information and to find dispensaries carrying Dialed In…Gummies throughout Colorado, visit their website.