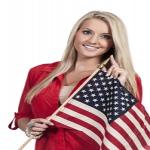 (Virtually All) Made in the USA Sandwiched between Memorial Day at the end of May and Independence Day at the beginning of July, June is a month in which many consumers' thoughts turn to patriotism. Most people assume that purchasing goods emblazoned with a "Made in the USA" label means they are supporting the American economy as a whole and the American manufacturing industry in particular, but is that actually the case?
According to guidance published by the Federal Trade Commission, products that feature the label must be all or virtually all made in this country.
"'All or virtually all' means that all significant parts and processing that go into the product must be of U.S. origin," the FTC elaborated. "That is, the product should contain no - or negligible - foreign content."
Vagaries such as "virtually" and "negligible" constitute a legal gray area, and the resulting confusion leads to some companies making deceptive claims that their wares are of U.S. origin - either unwittingly or otherwise. Variations on the theme, such as the phrase "Assembled in USA," further muddy the waters.
"A product that includes foreign components may be called 'Assembled in USA' without qualification when its principal assembly takes place in the U.S. and the assembly is substantial," according to the FTC. "For the 'assembly' claim to be valid, the product's last 'substantial transformation' also should have occurred in the U.S."
Simply American… or Not There's also the question of what to do about brand names that suggest a product was domestically manufactured even if it does not meet the "Made in the USA" standard of use. Makeup and cosmetics company Almay recently ran into this conundrum as a result of its latest marketing campaign. Specifically, Almay came under fire for its new "Simply American" slogan, as the vast majority of its products are not manufactured in this country. In response to the campaign, nonprofit organization and watchdog Truth in Advertising filed a complaint with the FTC and another with the New York Attorney General, citing deceptive marketing practices.
"More than 95 percent of Revlon's Almay line of cosmetics sold on its website fails to meet the legal standard for a 'Made in the USA' claim, but the company's broad-reaching 'Almay Simply American' marketing campaign including television, social media and Internet ads laden with patriotic symbolism unquestionably implies just that," Truth in Advertising asserted in a press release.
The watchdog filed the complaints after Revlon denied a request to cease what Truth In Advertising termed "false advertising" and claimed it was not engaging in any deceptive practices.
The 'Made in the USA' Effect As referenced earlier, many shoppers purchase items identified as being "Made in the USA" with the intention of helping to boost the national economy, but how big of a draw do these product labels actually possess? A Boston Consulting Group survey revealed the following:
More than 80 percent of American consumers said they would pay more for a product with a "Made in the USA" label than an item with a "Made in China" label.
At least 20 percent of American survey participants said they would be willing to pay a premium of more than 10 percent for U.S.-manufactured goods that spanned a wide range of product categories, including apparel, baby food and electronics.
Many Chinese consumers also displayed a preference for American-made goods, as more than 60 percent reported that they would pay more for an item manufactured in the U.S. than one made in China.
One thing's for sure: "Made in the USA" labels have a powerful effect, so companies should ensure they're being used correctly.
Request your FREE instant quote today.