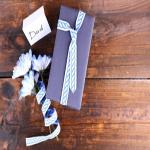 Use Custom Labels to Remind Consumers about Father's Day
Stores that have not yet designed, ordered and deployed custom labels and stickers in time for Father's Day still have a window of time in which to do so, but the clock is ticking. Father's Day may not be until June 21, but holidays have a tendency to sneak up quickly, taking both companies and consumers by surprise. For proof, look no further than the greeting card aisle the night before Mother's Day, Father's Day, Valentine's Day… and the list goes on.
When it comes to shopping for Dad, many consumers are stumped, which is where Father's Day labels can come in handy. Individuals who hadn't previously considered a particular product as a gift may be more inclined to do so if they see a label that nudges them in the right direction.
Statistics have emerged over the past couple of years that shine a spotlight on the spending gap between Mother's Day and Father's Day. Annual figures from the National Retail Federation indicate that over the past five years, spending on Mother's Day gifts outpaced investments in Father's Day gifts every time. We'll have to wait until the month's end for this year's definitive numbers, but last year's predictions forecast Father's Day spending to total approximately $12.5 billion, significantly less than the nearly $20 billion projected for Mother's Day.
Redress the Balance with Father's Day Labels
Even with some retailers drawing attention to particular gift options with Father's Day labels, the unequal spending persists. Speculation has run rampant about the cause for the discrepancy between the average expenditures on gifts for Mom and Dad, with some people concluding that consumers fork over more for their favorite parent. However, the real answer could be a lot less incendiary.
"It's just harder to buy for men," Robert Passikoff, president of retail consultancy company Brand Keys, told TODAY Money. "This is not a contest."
There is simply a larger number and a greater diversity of products for Mom, which means retailers have more to work with in the run-up to Mother's Day - and, more often than not, consumers faced with myriad options are able to sort through and find the perfect gift. In contrast, the range of gifts for men typically doesn't go beyond the realm of the tie, shirt and home improvement tool - and, of course, the ubiquitous gift card.
After so many years being stuck in this Father's Day gift-buying rut, shoppers may need some help to clamber out of it, which is where Father's Day labels may come in useful. An action as simple as sticking a "Great for Father's Day!" label on a product may be all it takes for retailers to get consumers inspired.
Highlight These Outside-the-Box Gift Ideas with Custom Stickers
Retailers eager to target shoppers who are as sick of buying novelty golf socks as their fathers are of receiving them may want to consider drawing consumers' attention to these products using custom stickers:
Headphones: Whether Dad listens to Frank Sinatra or Fabolous, he's sure to appreciate this gift. There are enough options available to suit all shoppers' budgets and tastes, from ear buds to bulkier models.
A book: Some fathers devour fiction, others enjoy biographies. If Dad isn't a reader, how-to books and collections of recipes are other options.
A watch: Watches are one of the most common accessories out there. Functional and fashionable, they span many different designs and price ranges.
Buying a Father's Day gift is a personal process, but there's no reason why retailers can't help consumers along by using well-placed stickers and labels.
Request your FREE instant quote today.