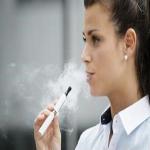 E-Cigarette Labels are a Must to Stand Out
To capitalize on the recent popularity of e-cigarettes, manufacturers will need to take another look at their e-cigarette labels to ensure they capture consumers' attention.
The e-cigarette business is booming. As WBOY reported, many smokers have turned to e-cigarettes because of the numerous perceived advantages associated with them. For example, in many cities, smoking is banned indoors. However, because e-cigarettes are vapors, smokers can use them to get around such bans. Others have cited health benefits due to the lack of hazardous chemicals.
Of course, the evidence of e-cigarettes' popularity is not just anecdotal either. Bloomberg Business recently reported the e-cigarette business generates $1.5 billion annually.
With e-cigarettes growing more popular each and every day, both among users and as a business venture, it's important that manufacturers have an eye-catching label and package. This will allow e-cigarette brands to stand out from competitors in an increasingly crowded market.
Striking E-Cigarette Labels Help Establish the Brand
As is the case with regular cigarettes, e-cigarettes thrive on marketing and advertising. Establishing a brand is crucial and can play a pivotal role in winning customer sales. Although there are a number of different ingredients that go into developing a successful image, labels and packaging are often two of the leading factors that can help e-cigarette manufacturers establish the image they want to possess.
Look no further than standard cigarettes for evidence. A package of Marlboros is easily recognizable due to the trademark red-and-white color scheme, while Camel is similarly identifiable due to the iconic camel featured on the front of the carton. If e-cigarette manufacturers want to create a brand that customers love, they will need to start with memorable and timeless cartons and label designs.
Timeless Label Design Helps Appeal to Customers
There are a variety of different ways e-cigarette manufacturers can approach label design. A mix of icon imagery and an eye-catching color schemes should be the basis of all labels, and that holds true for e-cigarettes as well. Labels should try to capture the spirit of the brand in a way that easily connects with prospective customers.
Request your FREE instant quote today.