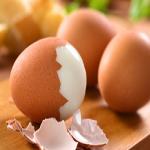 Consumers Scrutinize Food Product Labels Claiming Animal Welfare
Egg carton food product labels claiming humane conditions for egg-laying hens have come under consumer investigation. According to The Washington Times, the lack of regulation over labeling methods has allowed egg manufacturers to increase prices on eggs, alleging they were laid in humane conditions.
As more consumers have become aware of animal welfare, The Washington Times reported "cage-free" and "humane certified" labels have popped up in supermarkets and grocery stores around the country. Because there is no official regulation on egg carton labeling, many makers have claimed their products are certified organic or are free-range, while the hens may not be any better off than their caged counterparts.
Labels on Food Products May Be Deceiving  The Washington Times recommended consumers be aware of which labels on food products mean the animal lived in safe conditions. An increase in misleading stickers often results in many consumers not knowing which labels are true, and the newspaper reported that there are some stickers, such as those stating Food-Alliance certified, which have official measures behind them.
Request your FREE instant quote today.