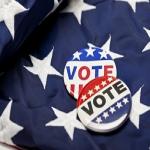 In presidential election years, every American knows when election day is approaching - it's hard to avoid. In years when there is neither a presidential campaign nor mid-term Congressional election ongoing, however, the date can sneak up. It's almost November 7, and if you're helping a candidate in a regional election or running a polling station, this is your last chance to stock up on bumper stickers and other custom decals that can get people into the patriotic spirit.
Helping a Candidate
Election day stickers supporting a party or candidate can take a few different forms. Window decals and bumper stickers are great ways to help voters broadcast their preference. The latter is especially valuable because despite their car-centric name, bumper stickers can go on just about any hard surface.
The colors and logo on your stickers are an important consideration. Of course, you'll want the candidate or ballot question you're stumping for to be clearly printed, so every viewer gets the message. The palate you pick can also boost the appeal of a sticker, whether you use your party's colors, a bright and eye-catching hue or good old red, white and blue.
The election season is coming up, but there's time to order one more batch of get-out-the-vote stickers. These are great additions for a campaign swinging into the home stretch.
Running a Polling Place
"I voted" stickers are iconic parts of the election day experience. If you're part of your town or city's elections committee, you'll want to make sure you have these on hand to give out on election day. While the date is fast approaching, you can place an order with an all-digital printing service such as Lightning Labels to get voter stickers in time. Lightning Labels' facilities are based domestically instead of overseas, which means reasonable delivery costs and times.
Request your FREE instant quote today.