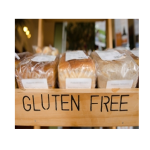 Food and beverage brands have several opportunities throughout the year to reach out to customers with specific dietary needs and preferences. November is set aside as Gluten Free Diet Awareness Month, which makes it a great time for producers to consider consumers who can't eat foods with high gluten content.
Business owners whose companies make gluten free items can use this themed month as a reminder to check their labeling strategies. Shoppers learn a great deal of information about foods from their packaging, and failure to clearly disclose a gluten free product may mean losing out on sales to individuals who feel unsure whether they can safely consume the food. This creates a strong connection between gluten and food labeling.
A Reliance on Gluten Free Labels Living with celiac disease and other kinds of gluten sensitivity means selecting products very carefully. When companies focus on their gluten free labels, they make shopping a little easier for these consumers. Furthermore, these brands increase their appeal relative to competing organizations that don't use the same techniques on their own labels.
Consumers are putting their trust in brands to produce items that comply with their dietary restrictions, and to label those foods in clear, accurate and eye-catching ways. Successfully doing all of these things can increase the bond of loyalty between a company and its customers.
There are a few different ways to communicate nutrition and ingredient information clearly. For instance, companies can redesign their product labels to incorporate bold text or imagery about the item's gluten free status. They can also employ gluten free stickers that are applied to items in addition to standard labels. These can go on products that are already on the shelves to serve as more prominent advertisements of the items' nutritional benefits.
"While there's never a wrong time to undergo a great label redesign, November is an especially important month due to its status as Gluten Free Diet Awareness Month," said Lightning Labels Director of Business Development AnneMarie Campbell. "When brands undertake this process, Lightning Labels can be there to help them."
Making Changes A label redesign can be easy and quick if food producers work with the right third-party partners. Lightning Labels offers quick orders, as well as low minimum quantities, due to its flexible and high-quality all-digital printing processes. Speedy turnaround times mean the projects can get underway in Gluten Free Diet Awareness Month, even though it has already begun. Brands considering new gluten free labeling strategies in November and beyond can take some of the time and difficulty out of these efforts by contacting Lightning Labels.
Request your FREE instant quote today.