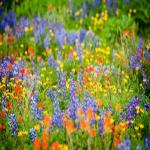 Stay on Top of Summer Marketing Opportunities with Essential Oil Labels
Lightning Labels, custom label and sticker printing leader, is reaching out to manufacturers in beauty, wellness and health industries with the opportunity to jumpstart their brand marketing with essential oil labels. Essential oils are known to alleviate stress and help users relax, which is exactly what summer is all about. The warm weather encourages many to get outside and take on healthier habits. By updating essential oil labels, manufacturers can show consumers how their products embrace the essence of summer and contribute to a relaxed, healthy lifestyle.
"Essential oils are so versatile and are used for a variety of purposes, including bath and beauty products, aromatherapy, stress relief and herbal medicine," said AnneMarie Campbell, Business Development Manager at Lightning Labels. "With the right product packaging, oil-makers have the opportunity to reach diverse consumer groups. Lightning Labels can create durable and attractive essential oil labels that stand out from competitors' products and reel in shoppers."
Experts Make it Easy and Affordable to Build Essential Oil Labels Online Manufacturers looking to build essential oil labels online can use the tools provided by Lightning Labels to ensure they get high-quality labels at a great rate. Digital sticker and label printing gives businesses an incredible variety of colors to choose from. Whether oil producers are looking for soft tones to accentuate the floral ingredients of their products or bold hues to portray items' aphrodisiac qualities, they're sure to find the colors they need.
While having aesthetically pleasing labels is as essential as the oils themselves, manufacturers are also likely looking for packaging that doesn't deteriorate over time. Lightning Labels' waterproof materials ensure a design is protected from water and oil damage. Throughout the product's useful life, labels remain as attractive as they were the day they were placed on containers.
Ordering essential oil labels online is a cinch; once a design receives final approval, manufacturers can expect to see their labels arrive within 48 hours. Because packaging materials are digitally printed, oil producers are guaranteed a great price on any order. While digitally printed labels for essential oils are a strong investment any time of year, manufacturers can take advantage of summer marketing opportunities by ordering their labels today.
Request your FREE instant quote today.