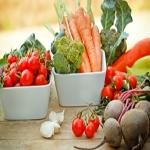 Healthy Food Labels May Influence Purchase Decisions
Healthy food labels are driving a new wave of mindful food purchasing decisions. A recent study conducted by the International Food Information Council (IFIC) found that as many as 71% of customers cited "healthfulness" as a top factor that impacted their food and beverage decisions. While healthy food still ranked lower than price and taste, the margin has been shrinking, with the number of consumers prioritizing nutritional value growing 10 percent since 2012.
"While people's attitudes about healthfulness in their food and beverage purchases and consumption alone don't necessarily mean we are a healthier country today than we were a year or two ago, it could signal that we are moving in the right direction," said Marianne Smith Edge, IFIC Foundation senior vice president for nutrition and food safety.
However, although consumers are looking to improve their diets and are becoming more health-conscious, many still have trouble reading product labels and deciding which foods and beverages are actually more healthy. Solstice Publications' Food & Health with Timi Gustafson noted that many people still misread product labels and make poor decisions as a result.
For example, they may see a particular item is "fat-free" and misunderstand the claim to mean it is healthy. A fat-free item could still contain a lot of calories and sugar, which in fact make it not very nutritious. Sports drinks and vitamin waters are famous for this - they present themselves as being healthy beverage alternatives when in fact they contain a lot of sugar.
In that regard, food and beverage manufacturers looking to establish themselves as healthy lifestyle trend-setters still have a lot of work to do in educating people on how to eat or drink better. Product labels are often the perfect tools with which to start.
Natural Labels May Help Catch the Interest of Customers
First, look at the ingredients often featured on natural labels. Many companies like to claim ingredients used in their products are natural, sustainably grown or otherwise cultivated in a way that does not jeopardize the integrity of the components used in the food or beverage.
However, there are numerous ways for customers to get confused, the Environmental Group reported. For example, meat that features a "natural" claim is different than another meat product that says it is "organic," which many people may not understand at face value.
Although customers can look these claims up and do their own research to find out what they mean, brands may want to consider taking education into their own hands and improving the transparency of their labels.
Product Labels are a Brand's First Contact with Prospect
At the end of the day, product labels are often the first connection many brands are able to make with customers. By not only designing an attractive label, but also being transparent and educational with label claims, companies may be better positioned to win sales.
Request your FREE instant quote today.