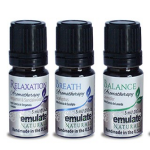 Family-owned business makes natural and organic pain relief, healing and facial skin care products
Dr. Mehmet Oz, host of the "Dr. Oz" TV show, was so taken with Donnelly, ID-based Emulate Natural Care products that he showcased them on his TV show. Dr. Oz is a cardiothoracic surgeon who spreads the word about healing practices and products to a national audience.
Manufacturer of more than 100 products for the natural body care market and professional spa industry, Emulate is a woman-owned business founded by Julie Stauts in 2003. The company follows Native American and Holistic traditions for harvesting and infusing wild and organic healing herbs and flowers into pharmaceutical grade Emu oil, suitable for consumption as well as topical application, and Moringa oil. Other ingredients include Aloe Vera and organic fair-trade Shea Butter.
"The pain relief products are very popular, along with the eczema cream, facial skin care products and anti-aging serums," notes Julie, whose company is a major economic force in the financially challenged local economy. The company has been recognized by the Small Business Administration, Better Business Bureau and Idaho Department of Commerce.
With plans to expand a line of baby care products, Emulate also operates a wholly-owned subsidiary in Guadalajara, Mexico called Emulate Naturals that supplies products to the resort and spa industries. Julie's husband, Bob, and son Peter Guerrero are actively involved in the business.
Fighting spinal arthritis, Julie discovered Emu oil helped her symptoms. She partnered with a Lakota Indian Medicine Man, who used the oil in his medicine. During a 10-year exploration ending with his demise, the Medicine Man taught her about herbal medicine.
Relationship with Lightning Labels, the natural care label digital printing specialist Julie attests to the value of having well-designed, professionally printed custom natural care labels. She points out, "We have had many, many compliments on the quality of our labels courtesy of Lightning Labels. Quality of appearance in our labels and product presentation are very key on the shelf to attract new customers. We have been very pleased with Lightning Labels and their customer service and quality that enable us to accomplish our branding at a level that matches our unique quality products."
Stauts, a graphic designer and onetime owner of a marketing company who designs the natural care labels, emphasizes, "Our products really stand out on shelves, with brilliant color and clarity. There is consistent branding. No matter where people see our products, they know us. Most labels are printed on a chrome substrate with a white layer to bring out the metallic look. While very affordable, the labels look high quality and expensive. Because registration is so good, text is easy to read."
Request your FREE instant quote today.