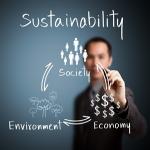 Sustainability and Ethical Information on Food Product Labels May Not Affect Consumer Choices A study surveying more than 4,000 consumers in Europe found that ecological information on food product labels had little impact on purchasing decisions. While shoppers indicated general concern about sustainability issues, these beliefs were not tied to food and beverage choices. Sustainable food label printing had the greatest impact when the Fair Trade label was used compared to those from Rainforest Alliance, Carbon Footprint and Animal Welfare logos, ecological information site Environmental Leader reported. Across the region, awareness of different logos varied significantly.
Custom Food Labels About Sustainability May Be Hard to Understand According to the study, which was published in Food Policy, there are about 147 standards for custom food labels related specifically to food and drinks across the globe. A survey from the European Commission determined that 129 private sustainability logos exist in the European Union and worldwide. The researchers argued that while there is potential for information about environment, animal and human welfare to play a role in purchasing decisions, these ideas are often too abstract. As a result, many consumers don't fully grasp the meaning or purpose behind different labeling schemes. Because of this hazy understanding, sustainability and ethics of food production don't always play a large role in decision making.
Request your FREE instant quote today.