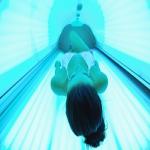 New FDA Measure Proposes Warning Signs and Labels for Tanning Beds
Studies have shown an increased risk of developing skin cancer from using tanning beds, and consumers might see warning signs and labels on sunlamp products in the near future. The U.S. Food and Drug Administration introduced a measure that would require tanning products that give off ultraviolet radiation, such as sunlamps and tanning beds, to have a safety sticker about the dangers of using the products.
Instituting warning labels on products that pose negative health consequences is not a new concept; cigarettes and alcoholic beverages have been required to include warnings for years. However, it is the first time that the FDA has proposed an official order regarding indoor tanning and skin cancer.
Safety Warning Label May Reduce Indoor Tanning The FDA hopes including a safety warning label would increase consumer awareness about skin care and the risk of developing skin cancer. The measure would also reclassify certain products from low-risk devices to moderate risk devices. It would also require manufacturers to submit pre-market notifications to the FDA.
Margaret Hamburg, commissioner at the FDA, believes the proposed order will boost customer education about skin cancer.
"Using indoor tanning beds can damage your skin and increase your risk of developing skin cancer," Hamburg said. "The FDA's proposed changes will help address some of the risks associated with sunlamp products and provide consumers with clear and consistent information."
Request your FREE instant quote today.