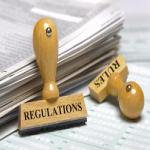 When a new product category emerges, the first few years of those items' availability can be challenging from a regulatory compliance point of view. Bills are often signed into law during these transitional periods that change the labeling or distribution rules regarding the products, forcing companies to change their practices quickly or risk noncompliance.
The cannabidiol product sector is in such a phase now, with the U.S. Food and Drug Administration's policies about these nonhallucinogenic hemp derivatives evolving over time. If you're operating in this industry or interested in getting involved, you need to pay attention to the statements coming from this federal agency. You should also ensure your CBD product labels can change in reaction to regulatory actions.
FDA Regulation of CBD Products: The Present and Future
The current state of CBD label regulation is part of an evolving set of rules issued by the FDA. The agency noted that while the 2018 Farm Bill did indeed remove low-THC cannabis derivatives from the purview of the Controlled Substances Act, those items are still regulated by the FDA. The FDA's current restrictions around CBD include such provisions as banning interstate commerce for products sold as dietary supplements. The future of regulated CBD sales could include medicinal applications, pending more research.
The FDA's main labeling concern at the moment appears to be policing health claims. Unproven claims of benefits for consumers of CBD items are clearly disallowed by the agency. As Food-Navigator reported during the FDA's May 31 hearings, the National Cannabis Industry Association has urged the government to make a policy of non-intervention around CBD labels into an official interim fix in cases where there are no health claims to police.
Looking at the FDA's list of CBD warning letters for 2019, a pattern emerges. Companies that have earned these official rebukes have brought new and unapproved medicinal items to the market. The agency added that in addition to marketing these goods improperly, the businesses often misstated the amount of CBD present. Your business can learn from these examples when aiming to stay in compliance.
Lightning Labels: An Ideal Partner for CBD Product Labels
With FDA CBD labeling requirements a constant work in progress, your labeling partner for your items should enable speed and flexibility in making changes to product packaging. This is where Lightning Labels excels. With an all-digital printing process, you can take advantage of quick turnaround times and low minimum orders, allowing you to just get the custom labels you need now, then quickly pivot to a revised design if and when the rules change.
Request your FREE instant quote today.