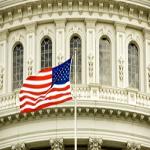 FDA Backs Down On Custom Warning Labels After Court Ruling
Score this round for Big Tobacco in the ongoing fight to place custom warning labels on cigarette packaging. In a letter to Speaker of the House John Boehner obtained by The Associated Press, Attorney General Eric Holder said the U.S. Food and Drug Administration will back down on its call to display graphic warning labels on cigarettes ... for now.
The latest obstacle to the federal mission was an appeals court decision that upheld a previous ruling stating the labels - mandated by legislation passed by Congress in 2009 - would violate free speech of tobacco companies.
In the letter, Holder said the agency would not seek a review of the ruling by the U.S. Supreme Court and suggested the FDA would have to go back to the drawing board and retool the labels it sought to implement.
Graphic Hazard Warning Labels a Growing Trend The hazard warning labels the FDA developed would have covered half of the packaging, and in addition to textual warnings against the dangers of smoking, they would display several graphic scenes like a decayed lung or tracheotomy hole designed to discourage smokers from lighting up.
Recent statistics indicate more than 40 countries have instituted similar graphic warning label requirements, but the road to an agreement on the subject in the United States looks fraught with challenges for the FDA.
Request your FREE instant quote today.