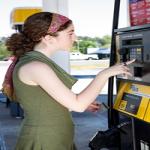 FTC Cedes Custom Car Sticker Power to EPA
Vehicle owners often have to worry about custom car stickers like permit decals cluttering up their rear windshield. But car owners can take some solace in the fact that they'll have to deal with one less sticker used to denote fuel economy.
Recently, the Federal Trade Commission announced it had updated its Alternative Fuels Rule. The tweaking of the rule phased out the FTC fuel economy sticker placed on alternative fuel vehicles (AFVs) in favor of one currently being used by the U.S. Environmental Protection Agency.
Single Car Window Sticker Helps Compliance The FTC said the decision to require that only one car window sticker be displayed to denote fuel economy on AFVs was made with manufacturers in mind. The agency said complying with two different stickers and regulators placed an unnecessary burden on car producers.
The sticker itself is used for manufacturers to post vital vehicle statistics, such as driving range and fuel type, so consumers can easily compare AFVs, all of which will be displayed on the EPA sticker.
The FTC said the EPA labels were more comprehensive and included information on both conventional and alternative fuel cars.
Request your FREE instant quote today.