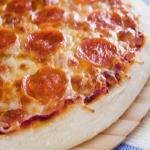 Bipartisan Bill Would Revamp Custom Food Label Requirements
New House legislation was recently introduced to better prepare food businesses for displaying nutritional custom food labels on menus. The bipartisan bill has at least one big supporter: the American Pizza Community.
Representing some 20,000 pizza establishments across the nation, the commission announced its support for HR 1249, the "Common Sense Nutrition Disclosure Act of 2013," saying it would help pizza operators innovate new solutions to complying with mandated menu calorie labels.
"This legislation seeks to address widespread concerns ... by replacing impractical, one-size-fits-all rules with flexible approaches based on real-world experience," said Lynn Liddle, chair of the American Pizza Community and executive vice president at Domino's Pizza.
Food Product Labels Could Appear Online One of the key provisions in the bill pizza owners backed was the allowance for nutritional food product labels to be displayed on online menus. A proposal in the bill would allow firms with the majority of customers placing orders off-premises - as is the case for many delivery pizza places - to provide calorie labeling through remote-access menus.
The legislation would also extend the option to label by portion, or slice in this case, and provide flexibility for labeling menu items with variable contents, for example, multi-topping pizzas.
Request your FREE instant quote today.