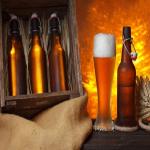 Custom Beer Labels May Soon Bear the 'Fresh From Florida' Seal Made popular by Florida orange juice, the "Fresh From Florida" seal could be applied to custom beer labels from local breweries. According to local news source Naples News, Florida Agriculture Commissioner Adam Putnam said craft brewers want to print beer labels using the slogan as a marketing tool. However, an informal advisory previously issued within the agricultural department indicates that items can't use the label unless 51 percent of ingredients were produced in Florida. Since many beer ingredients, like hops and malts, are grown out of state, this could cause difficulties.
Custom Beer Bottle Labels Could Benefit From Official Design The Fresh From Florida website says that the program helps state food producers market their products, which means custom beer bottle labels using the logo could increase sales. Naples News reported data from Putnam's office, which indicated nine Florida companies that used the logo at an exposition in Boston made $25 million in sales. Officials are still determining how beer can more easily qualify for the label. John Cheek, president of Orlando Brewing suggested that using Florida's water sources could be enough to allow these beverages to qualify, since beer is between 95 to 97 percent water.
Request your FREE instant quote today.