How to Make Food Labels Stand Out During National Popcorn Poppin' Month
[caption id="attachment_7954" align="alignleft" width="300"]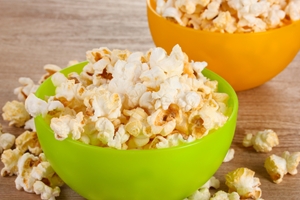 Learn how to make food labels for your popcorn this fall.[/caption]
October is National Popcorn Poppin' Month and, to celebrate, Lightning Labels is giving manufacturers a few tips on how to make food labels that command attention. Just like popcorn is a staple snack food across the United States, custom sticker labels are a prime ingredient for any effective branding campaign.
According to The Popcorn Board, fall is the peak sales time for in-home popcorn consumption. With consumers upping their purchases of the tasty treat, snack-makers can capitalize on the opportunity to boost revenue by effectively marketing their products with attractive food labels and stickers that truly pop. After all, product packaging is one of the first aspects of your brand consumers will notice. Grab their attention with a unique and professional label. Popcorn manufacturers of all kinds - from national distributors to independent confectioners - can benefit from a marketing boost, and Lightning Labels' stickers and labels provide a strong addition to seasonal campaigns and long-term branding efforts.
Popcorn-makers looking to turn the kernel ideas of their food label design into a reality should consider the following three tips on making food labels pop:
1. Use Popcorn Labels to Flaunt the Snack's Health Benefits:
While including nutritional information on popcorn labels is a must, there's no reason not to flaunt popcorn's health benefits beyond the nutrition fact chart. In addition to being a whole grain, popcorn is low in fat and calories, making it a smart choice for health-conscious consumers who don't want to sacrifice taste for nutrition. Manufacturers can communicate this information using high-quality images and graphics, which Lightning Labels' digital printing ensures appear cleanly on product labels.
2. Include Fun Facts on Popcorn Stickers:
If you're targeting a younger consumer group, add some fun and intrigue to your product by placing interesting facts on popcorn stickers. Did you know popcorn was used in 16th-century Aztec Indian ceremonies? Or that Americans consume 16 billion quarts of popcorn every year?  How about that popcorn can jump up to three feet in the air? These facts and more are available on The Popcorn Board's website and can help you design quirky, amusing packaging that gets shoppers interested in your brand.
3. Add Colors to Make Food Stickers and Labels Stand Out this Season:
Whether you want to market your brand's unique flavors or embrace Halloween and fall colors to boost seasonal sales, your color choice can make or break your product's success on store shelves. Lightning Labels offers a seemingly endless supply of hues and tones to choose from and our digital printing process creates bold, rich labels that are sure to catch eyes.
There are a ton of directions popcorn-makers can take their product label designs in. No matter what packaging you use to sell your goods - from kernel containers to cardboard boxes to popcorn bags - Lightning Labels' diversity of sticker and label shapes, materials and sizes is sure to meet your marketing needs.
Request your FREE instant quote today.