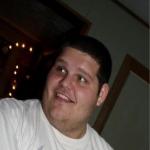 Pete Romas, Business Operations Manager, Analytics & Reporting for Lightning Labels, has filled many roles in his given professions, from printing to pizza.
He started with Lightning Labels six years ago as a marketing & sales coordinator, then became Business Operations Analyst before moving into his present role.
His family's pizza business—where he ran the register, helped prep dough and sauce, sauced and cheesed the pizzas, and handled delivery and catering—no doubt prepared him for the many hats he's worn at Lightning Labels.
"I really enjoy team collaboration—working with the team, figuring out issues, releasing stress by automating something. I push innovation, working with different teams to make Lightning Labels better," notes Pete.
He adds, "I have had a unique role, supporting all aspects of the business. I'm a pure operations guy working with all the teams to make sure Lightning Labels is doing well. I've worked on status planning, sales and marketing budgets, metrics, insights on various teams, marketing campaigns and planning; as well supporting sales, operations, prepress, budget development, data collection, continuous improvement, and business intelligence gathering.
Ecommerce is a particular area of expertise and enjoyment. Pete helped redesign and rev up automation on the firm's custom label website. "We pulled older systems into a cool, automated dashboard with data in real time, and automated reporting to keep on top of everything," he points out.
Experience working with teams pre-dates his tenure at Lightning Labels. "My family owned the pizzeria for 30 years. I worked with my dad, uncles, and cousins. While that was happening, I also worked on the B2B side of a media company on business deals, events, and primetime TV operations."
Pete views life from an unconventional perspective, partly as a result of his pizza days. Before it was trendy, "We made Greek-style pizza with feta, tomato, basil, spinach, homemade sausage meatballs, and zucchini. Zucchini on a pizza is phenomenal," he says.
When not teaming up at Lightning Labels, Pete golfs, enjoys a large group of friends and family, and follows his favorite New York sports teams—Yankees, Jets, Rangers, and Knicks. He volunteers in the Greek community and church, helping prep three major festivals annually.
Pete has done, and continues to do, it all.
Request your FREE instant quote today.