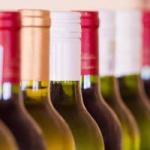 A glass bottle is a classy type of container for your products. Whether you're selling beverages, perfume or anything in between, your choice of packaging shows effort and a dedication to the items' appearance.
Your choice of glass bottle labels should continue this impression of careful design and focus. High-quality custom labels that clearly display your branded logos and imagery — and perfectly suit your bottles — are essential.
When working with the right bottle label printing partner, you have plenty of custom label options. This means you don't have to compromise and can create a complete package that clearly shows off the appeal of your brand to potential customers.
Labeling Your Glass Bottle Products to Catch Customers' Eyes
A glass bottle makes a statement. While, for your customers, a metal can or plastic bottle might be easier to carry or store, a glass bottle is tasteful and attractive. For some product types, glass is simply the only option: If you're manufacturing wine or top shelf spirits, the choice isn't whether to use a glass bottle, but rather how to best present that container.
If you choose to use colorful glass, or have a particularly eye-catching color of liquid inside the bottle, your best bottle label choice may be to go minimal. A small or partially transparent label will let the bottle and product sell themselves.
In other cases, the label itself is the main attraction. A vintage-style wine label, for example, can show off your brand's history through a canny combination of imagery and text.
It's important to save enough room for needed elements of label design. For instance, food and beverages need nutrition facts panels that comply with Food and Drug Administration regulations, while products of all types require quantity statements and ingredient lists. Alcohol warnings are more detailed and differentiated by product type. These are laid out by the Alcohol and Tobacco Tax and Trade Bureau.
Once you've ensured all necessary elements are in place, it's time for the fun part. A full-color logo or piece of brand imagery can bring bottle labels to life, as can your use of color in bottle label printing. Think in the context of your industry when performing this step: What will make customers take notice?
Matching Bottle Types with Label Materials
Design goes beyond selecting pictures and logos for your labels. Your choice of label material is critical because the chosen paper stock or polymer will determine the texture and appearance of the finished label.
While you have a great deal of freedom to mix and match label materials and bottle types, there are a few reliable choices that can elevate your products' appearance, such as:
Beer bottle labels: Beer labels call for strong adhesive and tough material. Beer stored in a cooler will attract condensation, so the bottle labels should stand up well to moisture. Paper, polymer and vinyl labels may all be suitable for beer bottle label use, provided they are matched with the right adhesive.
Wine bottle labels: Custom wine label requirements may be determined by the variety of wine in question. White wine is more often chilled, so a tough finishing treatment may suit white wine bottles better than red. An old-fashioned paper label material like Estate #9 can lend a classy look to red wine.
Custom food labels: From honey and jam to pickles and preserves, plenty of foods come in glass jars. Mason jars may be best served by custom stickers on the lids, while other foods can match up with tough, glossy polymer labels.
Cosmetic labels: Custom cosmetic labels should be oil- and water-resistant. A tough BOPP polymer and strong finishing treatment can keep beauty and personal care products looking good for the long haul, even if they are stored in damp bathrooms.
Choosing a Bottle Label Printing Partner
Your custom bottle label printing company of choice should be able to provide a wide variety of materials and finishes, as well as quick turnaround times and order flexibility. In short, you should work with Lightning Labels.
With over 18 years of label printer experience serving companies across industries, Lightning Labels delivers all the convenience associated with digital label printing, alongside industry-leading customer care. Whether you need a few sheet labels for a small-scale bottle label project or thousands of roll labels for machine application, you're in good hands.