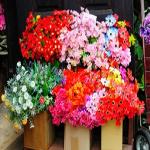 Spring Is Knocking, Are You Ready to Answer with Ideas for Packaging?
Lightning Labels, a custom label and sticker printing leader, is excited to announce that spring is almost here, bringing with it a slew of great marketing ideas for packaging.
While recent weather reports of storms around the country may make people feel like winter is here to stay, spring weather is just around the corner. As the seasons change, so do branding opportunities. Soon, consumers will be ditching winter-themed products in favor of new items that embrace spring fever.
"When companies take advantage of seasonal marketing, they're exposing themselves to major sales potential," said AnneMarie Campbell, Business Development Manager at Lightning Labels. "Spring can be a really fun time of year for brands. So many elements of the season symbolize life, which brands should be aware of as they promote their products in stores and online. A custom packaging makeover is a great way to revive items in the consumers' minds. Lightning Labels custom stickers and labels can create affordable, high-quality packaging that will stand out this spring."
Springtime Custom Packaging Ideas To Keep Product Sales Booming There are many ways manufacturers can incorporate the new season into their product custom packaging ideas. When brainstorming fresh ideas, consider these angles:
1. A Time for New Beginnings Consumers often associate spring with the beginning of something new, so many people are interested in starting new projects, such as losing weight, taking on a new hobby or trying new foods. How does a product help shoppers try something new? Remember to include bold colors and lively text to draw attention to product labels and stickers.
2. Spring Cleaning Many households and businesses take advantage of the warmer weather to clean up clutter in their homes and offices, which makes spring a niche season for cleaning products. Consider incorporating an image onto your packaging that symbolizes notions of freshness and hygiene. Lightning Labels digital printing allows manufacturers to place aesthetically pleasing, unique photos and illustrations on stickers and labels.
3. Spring Holidays While the gift-giving season may be behind us, several major holidays are coming up soon, including Easter, Passover and Arbor Day. Redesigning packing to reflect these holidays shows consumers that a product embraces the special day and is a quintessential part of the celebration.
Request your FREE instant quote today.