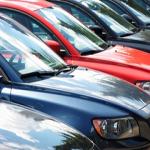 People More Likely to Spot Custom Window Stickers in Summer Months
Lightning Labels, a custom label and sticker printing leader, encourages manufacturers and individuals to take advantage of the weather this spring and summer by printing custom window stickers that will boost marketing efforts. Now that the winter's chill and snow are distant memories, people are coming out of cold weather hibernation and spending more time outside - walking, running, driving and biking around town. What better and more cost-effective way to promote a business or organization's message than on custom window stickers?
Custom Window Decals Turn Vehicles into Traveling Billboards It can be expensive to kick off an advertising campaign that promotes a message or cause, so why not turn the organization's truck or car into a roving billboard that attracts attention everywhere it goes? Schools, nonprofits and small businesses with tight budgets can stretch their dollars even further by selling or offering custom window decals to loyal customers and supporters - possibly as part of a fundraiser - to create a promotional fleet that beachcombers, bikers, community residents and other drivers on the road will see all over this summer.
2 Ways to Make Custom Window Stickers and Window Decals Pop It's not difficult to design and print window stickers and decals with Lightning Labels, but that doesn't mean manufacturers and businesses shouldn't do their part in making the label designs pop. Here are two ways to make sure custom window stickers attract the right type of attention this summer:
1. Color Choice is Key It's important to take color choice seriously when designing custom window stickers. They need to turn heads, which can be hard when affixed to one moving vehicle among many others, but using a few summer colors can do just that. Bright reds, oranges, cobalt blue and sunny yellows will be sure to stand out on the vehicles and on the road.
2. Text Copy and Size Matters Unlike other custom product labels that can include small text, window stickers and decals are no place for copy and font that can't be easily read from a distance. Keep font size and weight on custom window decals in mind, and use to-the-point statements and information that can be understood in just a few seconds instead of wordy slogans and unnecessary jargon or insignificant details.
Request your FREE instant quote today.