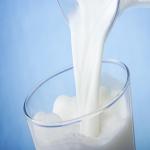 Dairy Lobby Presses For Changes To Custom Food Labels
Get ready for changes to custom food labels in a dairy aisle near you soon. That is, if the U.S. Food and Drug Administration (FDA) honors a request from the dairy industry lobby that would have the agency change the definition of milk so product ingredients would not have to specially labeled.
In 2009, the International Dairy Foods Association (IDFA) and the National Milk Producers Federation filed a petition that sought to have the FDA relax its labeling requirements for dairy products, including chocolate- and strawberry-flavored milk, that include low-calorie aspartame and other similar artificial sweeteners.
Reform Advocates: 'Low-Calorie' Food Product Labels Don't Appeal To Kids In the petition filed requesting the easing of restrictions on food product labels, the two groups said mandatory labels for low-calorie milk that denote the product as such don't have an appeal with the target audience, children. The lobby also argued such labels have led to a decrease in consumption of healthy products.
Currently, the FDA is seeking public comment on the proposed change in the definition of milk to eliminate artificial sweetener labels.
Many health professionals have expressed concern, saying artificial sweeteners condition young minds to crave products that are more sugary than others.
Request your FREE instant quote today.