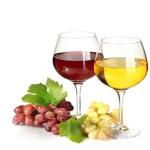 Personalized Wine Labels Grow Vintners' Brands
Just as vintners labor tirelessly over their latest batch of wine, so too should they spend the necessary amount of time developing their personalized wine labels. In the absence knowledge, people often look at wine labels as a means of learning about certain brands. A creative wine label that is not only expertly designed aesthetically but also conveys all the necessary and required information can be a great asset for any burgeoning brand to leverage.
When it comes to a high-end products such as wine, the brand name matters significantly. Unlike other products, particularly goods such as paper towels that are primarily for utilitarian purposes, wine attracts a certain breed of consumers. To them, wine is a part of their persona, and one study conducted by French Wines with Style even came to that direct conclusion.
"They say you can tell a lot about someone from their favorite tipple, and it seems that it is definitely the case when it comes to wine," a spokesperson from the company told the Daily Mail. "From the study, it looks as though those with certain personality traits are drawn to certain styles of wine."
This is why it is so important that vintners keep their brand positioning in mind. When people find brands they like and speak to them as individuals, they are likely to become repeat buyers in the future.
Custom Wine Labels are Where the Branding Starts
Of course, there are a number of important factors to consider when selecting a wine, but vintners should not underestimate the value of custom wine labels. People will look for they type of wine, where it is made, its age, what ingredients were involved in the making of each bottle and other crucial information. All of this data can be printed straight on the wine label.
The front of the label is where vintners get to promote their brand. Everything from the imagery and font used to the promotional ad copy written to sell the bottle to consumers needs to be designed with the target audience in mind.
Printing Labels for Wine Bottles
Because labels for wine bottles are so crucial for establishing a brand, vintners should work with experienced label printing companies to ensure they come up with high-quality labels that put their brands in the best light.
Request your FREE instant quote today.