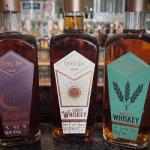 Labeling is a competition to win customers' attention. When shoppers enter a store looking for a specific type of item, they have to make a decision between all the brands available. When they look at your items, what will they see?
When you use hot foil stamping on your product labels, you gain a major leg-up in drawing customers' eyes. Your hot foil stamped labels will actually shine in the light, with real metal infused into the label material to give the packaging shiny accents.
There are plenty of compelling use cases for hot foil stamping in labels. Maybe you're selling a premium version of a product, and you want to make sure buyers know they're paying for quality. Perhaps you're in the wine and spirits business and you're eager to create a bottle people will want to display in their homes. If your brand has won an award, a shining foil element can commemorate that honor.
No matter how you end up using hot foil stamping, one thing remains true: this infusion of metallic foil makes labels look different from the standard packaging on shelves.
The Hot Foil Stamping Process
Hot stamp labels are unique because of the way they're created. Rather than just being laid over the top of a normal label material, the metallic foil is literally stamped into the labels. The heat in hot stamping is what makes it different from cold foil printing. This process gives the labels their distinctive sheen and opens up new creative and graphic design possibilities for your brand.
Since hot foil stamping is carried out on specialized presses, not every label printing provider can offer the process. Metallic foil is a premium label feature that shows the care and effort that went into your company's label design process.
Designers aren't limited to one hue of foil when creating hot stamp labels. There are a variety of metallic shades available, the better to suit the imagery around them. In some cases, a silvery look might be ideal, while in other cases, mellow gold could complement a brand's logo better. You may also settle on a more muted copper tone, which can add a richness to a label's visuals.
It's worth noting that hot foil stamping is compatible with embossing. This means you can order labels that have both metallic accents and raised textures. An embossed seal with hot foil stamping can serve as a seal of quality on a premium or award-winning product, or simply accent a brand's logo. This combination is appealing to customers' eyes and irresistible for them to touch.
The Visual Impact of Hot Foil Stamping
The power of hot foil stamping comes from the natural appeal of shiny materials. On a shelf filled with standard labels, a hot foil stamp label is sure to stand out.
Designing around metal foil accents doesn't have to be complex or difficult. Indeed, there may be parts of your current brand logo that would be more visually compelling if they were accented by a shining strip of metal.
All the considerations that go into product label design still apply when you're working with hot stamp labels. Choosing a compelling color scheme is an important part of designing an ideal label, as is creating a unified mixture of text, artwork and negative space.
Your choice of label material and finishing treatment is also a critical step in creating a suitable packaging concept. Each type of substrate and finish gives its own character to the label. A rough, paper label texture can create an old-fashioned feel that can prove especially good for spirits. A matte surface, on the other hand, is more modern and may be the perfect complement to silver foil or gold foil on a black label.
Hot foil stamping adds a shining accent to labels that are not metallic in color. If you're interested in a label that is entirely shiny, you can achieve that look through your choice of label material: A silver or gold polypropylene material is the right choice to create metal-hued custom labels.
Foil Stamping for Wine and Spirits Bottle Labels
One of the most compelling use cases for hot stamp labels is in the beverage space. These bottle labels are perfectly suited for hot foil stamp accents. Due to the relatively standard size of wine bottles and the wealth of choices available in liquor stores, it pays to have an extra edge over competitors' offerings.
A beverage label with a uniform background color can truly pop on store shelves when it's accented by hot foil stamping in the product's logo, text or both. Whether customers are looking for something to have with dinner that night or to store for a special occasion, the shining label sends the message that your vineyard or distillery has put care and effort into its offerings.
Even more so than other food and beverage categories, hot foil stamping can be compelling for wine and spirits. While snack foods or soft drinks may benefit from bright colors and graphics, and health foods are well matched with earth tones and rough textures, shiny accents are perfect for alcohol. Your brand needs a way to convince an adult clientele to make an investment in your product, and the foil is a way to create the perfect first impression.
If your brand produces multiple varieties of wine or spirits, you can differentiate the lines by your use of hot foil stamping. Perhaps only your premium, aged offering will feature a foil stamped label, which shows off its place in your line. Alternatively, you can use different types of foil to mark out your various offerings, with gold, silver and copper accents — each enlivening the same logo across different varieties.
Whichever strategy you choose for your beverage labels, it's important to remember hot foil stamping is just one element of a great custom label design. All the elements should work together to get your brand's personality across to customers.
Hot Foil Stamping from a Top Label Printer
Your choice of label printing partner can determine just how well your hot foil stamping efforts turn out. It's important to select a company that can not only offer you access to a hot foil stamping machine but also deliver speed, flexibility and cost-effectiveness.
Choosing Lightning Labels as your hot foil stamp label provider is a way to add valuable experience to your packaging strategy. Lightning Labels has been in business for two decades, helping companies of all sizes and industries create custom labels that make sense for their objectives and audiences. Hot foil stamping is just one of the advanced label features available through Lightning Labels.
You can combine foil stamping with processes such as embossing to receive fully customized labels that will impress your customers. Lightning Labels offers a wide variety of label materials and finishing treatments and can die-cut labels into any size and shape imaginable. This ensures your hot foil stamp labels won't just be notable for their shiny accents, they'll be complete, compelling designs.
Lightning Labels combines technical know-how with fast turnaround times, flexible order sizes and responsive customer service. This ensures that no matter how ambitious your plans for hot foil stamp labels are, you'll be able to put your plans into place remarkably quickly, without friction or extra complications.
If you're searching for the critical edge that can help your labels stand out from the competition, hot foil stamping from Lightning Labels may be just what you need.