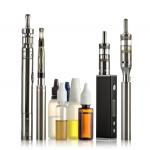 Compelling Vape Labels Are Important
When you venture into selling e-cigarette and vaping products, you have to distinguish your offerings in a market that is comparatively young and still evolving. Between the need to stand out among a host of new brands and the importance of keeping up with evolving rules and regulations, labeling is not a straightforward practice in the vape space. Fortunately, when you have a dedicated and experienced third party on your side, your custom vape labels can become an excellent branding asset rather than an afterthought or complication.
Experiment with Texture, Finish and More
Once you ensure your labels are in line with current regulations regarding ingredient disclosure and tobacco warnings, it's time to create a visual identity for your vape products. The obvious elements of design make up a big part of this process - from your logo to the typeface on the label, there are endless variables to tune. However, it may pay to delve deeper into designing vape juice labels and spend time selecting the right material, shape, size and finish for your particular offerings.
When all elements of e-juice labels match up, the impression created by the brand can be remarkably strong. If you want to have a sleek, high-tech look, you can select a chrome material with a glossy finish. If your brand is more dedicated to responsibility and eco-friendliness, you can opt for a rough-textured label made from recycled materials. Furthermore, it's possible to customize the shape and size of your labels to make sure they present your brand's imagery and logo in a flattering way.
Customers picking a new brand of e-juice have only a few cues to go on. Comparing labels in the store may become a process of seeing which brand makes the bigger, more memorable impact. You can potentially help your chances in this regard by creating a label that speaks directly to your image and culture. Vaping is a new space for companies to operate in, meaning you have a big opportunity to make a first impression with customers. Taking a professional and developed approach to labeling is a step in the right direction.
Order Your Labels Now
The regulations regarding vape labels have shifted in the past and are set to do so again. In a developing space, how can your company afford to focus on strong, effective label designs? A partner like Lightning Labels can help. By employing all-digital processes, Lightning Labels makes it possible to order small print-runs of custom vape labels, so you can move with the times, not have any waste and still get a high-quality look and feel.
Lightning Labels offers a number of shapes, sizes, finishes and materials for vape labels, meaning your brand will likely find a perfect combination that gets its unique identity across. There's no need to settle for a generic look when printing your next batch of vape labels. Instead, you can maximize your branding and appeal, making an instant connection with customers and helping you rise to the top in the young industry. As vaping comes into its own, your brand can go along for the ride.
Request your FREE instant quote today.