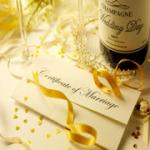 February is National Wedding Month
Love is in the air this month, as February hosts both Valentine's Day and National Wedding Month, all within the shortest number of days of the year. If you produce candles, wine, wedding favors or any other products that are a bit more popular during wedding season, which generally falls in the spring and summer months, the time is now to get moving on customized label projects that will let newlyweds-to-be know that you are a good choice for their event.
In many ways, this month is a great time to build brand awareness through several different types of campaigns, including those that celebrate National Wedding Month and Valentine's Day, directly market relevant services or get the brand name into the minds of individuals planning their weddings for later in the year. At the end of the day, custom wedding gifts are a great place to start, as virtually every couple will make sure that their guests receive some token of appreciation following the ceremony.
Wedding Favor Labels
Regardless of which types of wedding-related products you might be selling, custom labels can be a great way to differentiate your items from those of competitors, and getting out ahead of others in the industry can help to drive revenue down the road. Customizing wedding favor labels will allow the bride and groom to land on a specific product that they would like to be included in the baskets, but then personalize each one for the guests who are receiving them.
Candle labels, as well as custom stickers for other hot items such as wine and cheese, can also be a relatively simple and affordable means to the ultimate end of building demand for your products rather than those distributed by others in the marketplace. Because personalization and customization have become two of the primary drivers of customer engagement and loyalty, they should not be overlooked this National Wedding Month.
Lightning Labels for the Win
With February coming to a close and the spring just a month away, you will likely need a quick turnaround on orders for custom labels and other branded items. To ensure that your labels are ready to go and printed nicely ahead of the busy wedding season, consider partnering with Lightning Labels for all of your custom needs in the coming weeks.
Request your FREE instant quote today.