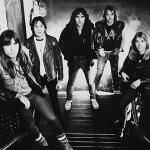 Customized Beer Bottle Labels Created for Band's Fans
In order to sell their beer in Sweden, Iron Maiden has created customized beer bottle labels for the country. The heavy metal band altered the beverage stickers because the image on the bottles is banned by the Swedish government. According to Paste Magazine, Iron Maiden was forced to crop their "Trooper" beer label to fit with the Swedish law against elements of war or aggression on alcoholic products.
Beer Bottle Stickers Get a Special Makeover  The beer bottle stickers normally depict the band's skeleton mascot, Eddie, holding the Union Jack flag, but in Sweden the label will only show the skeleton's face. Paste Magazine reports Iron Maiden adjusted the sticker without complaint.
The band issued a statement stating that "As our first and foremost priority is for our Swedish fans to be able to enjoy Trooper beer, we amended the label by simply focusing purely on Eddie's face and are now very pleased to advise that the new label, currently exclusive to Sweden, has now been approved."
Request your FREE instant quote today.