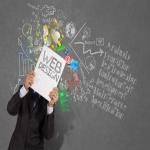 Business technology hype and excitement tend to center on the latest trends. This appreciation for the newest and flashiest tools means older assets, such as optimized websites, may be relatively undervalued. No matter how influential social media becomes, however, you can't afford to ignore website optimization as a customer-attraction technique.
How to Optimize Your Website
Does your small company have its own site? If so, how much effort went into its creation? If your site is a mere placeholder, it may not be living up to its potential. Entrepreneur contributor Luis Congdon indicated the importance of having a business site optimized to collect information from potential customers and turn those leads into buyers. The site should act as an extra salesperson, one who is always on duty.
Search Engine Journal contributor Corey Morris added an optimized website doesn't just have useful content for visitors to browse. It also sports a layout that is easy to explore and makes finding and consuming that material easier.
Part of Maximized Marketing
Every one of your company's assets should express a centralized brand identity. Your website's design should coincide with your products' labels and your messaging must be consistent across channels. Consumers today will engage with companies wherever and whenever is convenient for them. You have to be ready to meet them.
Request your FREE instant quote today.