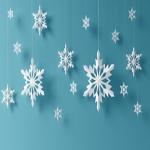 Now's the Time to Plan Ahead
The air is still warm and in many places school isn't back in session - but it's still a great time to think ahead to the winter holidays. If you have products to sell, your holiday sales numbers can get a serious boost from creating a plan well beforehand, ensuring that the strategy is robust and complete rather than a last-minute afterthought. Packaging concerns are one possible element that can be squared away now. Getting your holiday labels printed well in advance ensures that the specially marked goods will be on the shelves for the entirety of the festive season.
Catch Eyes This Year
People shopping for gifts - or for themselves - in November and December may be won over by colorful and appealing labels incorporating seasonal imagery. Christmas labels or designs promoting other winter occasions can add a little flair to your lineup and even serve as a reminder that customers should be making extra effort to buy perfect presents for their friends and family members.
Whether you've employed seasonal packaging strategies before or are adding it to your strategy for the first time this year, it's never too early to think about holiday label printing. Throughout the whole holiday season, customers from digital early birds to last-minute retail shoppers will be happy to see products that emphasize the season. There are plenty of great images you can employ, and a lot of variety based on the region your company is based in, the types of items you sell and the holidays your customer base celebrates.
If your product line leans heavily on mail-order and delivery than in-person sales, even the packages you use to dispatch goods can be made more festive - consider holiday address labels that show customers you're feeling the spirit of the season. These are an especially great type of label to buy early, as individuals who receive orders in September, October or November that mention the winter holidays on the return address label may be inspired to buy presents and end-of-year bargains from you as well. These stickers show your brand's flair while also serving as good reminders to shop.
Be Ready To Go
Taking early action on holiday labels is a great idea from a strategy perspective. True to its name, Lightning Labels can turn around orders in lightning-fast times, but that doesn't mean you should refrain from placing an order until the last minute. Having your holiday-labeled products ready to go from now until the end of the year enables you to launch your seasonal plans at the drop of a hat.
So, while it's still beach weather, it pays to have your mind on the holidays. You know the importance of the end of the year from a revenue perspective, which means it's impossible to put too much thought or effort into maximizing its effectiveness. Great designs printed on high-quality labels will attract attention and can subtly let customers know that the season is upon them and it's time to shop. It's time to have a great holiday season - then think about next year!
Request your FREE instant quote today.