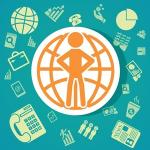 Building Consumer Connections Through Customization
Digital technologies have significantly transformed the way marketers reach, engage and connect with target audiences. The rapid proliferation of mobile devices, increased reliance on connectivity and prominent rise of the Internet of Things have made it so businesses are now presented with enormous amounts of data - information they can collect, organize and analyze to gain enhanced insight and information on their customers.
This advanced visibility leads to sellers making more informed and strategic decisions about their products. They are able to fine-tune virtually all aspects of the production and selling process in a way that gives shoppers a better, more personalized experience. The more brands know about their audiences, the better able they are deliver the goods and services they need - using the strategies and channels they are most likely to respond to.
In this highly digital environment, brands have to compete, perhaps more than ever, with other companies to gain the attention of consumers. This is why so much attention is being paid to the packaging and labeling designs of products. The way the goods are presented online or on the shelf can make or break whether or not a shopper notices an item, let alone purchases it.
As technology and software become more sophisticated, the expectations consumers have are increasing. Digital developments have made it so the shopping experience of today's customers is all about convenience and customization. It is imperative that brands are able to leverage unique and creative ways to create custom labels and packages that not only stand out to shoppers, but are able to establish a connection with them in some way. And this is why personalized packaging is becoming such a staple among marketers today.
Earlier this year, Packaging Digest named personalization as one of the top and fastest-emerging packaging trends right now, due in large part to the way it allows brands to reach consumers on a personal level and meet a lot of their growing expectations.
Benefits of Personalized Packaging and Labeling
Print Week recently reported that personalized marketing increases customer loyalty and generates 31 percent more profits than other types of marketing materials. Thanks to digital printing technologies, adding this kind of value to marketing campaigns has become easier than ever before - and is why it has become a strategy used by companies across a wide range of industries, particularly those in the food and beverage market.
As Print Week pointed out, the use of personalization in labels and packages is incredibly versatile. This method can be used to not only grab the attention of shoppers - say, for example, by printing names on the product like Coca Cola Company does with its soda cans - but also to promote or generate buzz about a particular product or event, gain brand exposure or spread awareness. Adding to the attractiveness of the personalized packaging strategy is the wide range of content that can be printed on the label, as well as how the campaign is run. For example, a company could print the logo of different NFL football teams during the fall based on the city or state the item is being sold in. During the holidays, businesses could allow customers to go online and upload their own images or messages to print on a product label and give as a gift.
Another way personalized marketing is being used to benefit sellers today is that it allows them to further gain insight into consumer shopping and purchasing patterns. Print Week explained that the more consumers interact and engage with a product, especially if it is with a smartphone or via social media, the more a company is able to learn about their preferences and tastes and, therefore, further customize and target customers based on that information.
Mastering the Art of Customized Marketing
At the end of the day, the real driver of personalized packaging and labeling is that it is based on relevance. To be perceived as relevant and thereby valuable to shoppers today, brands must be strategic about their customization efforts. Personalized marketing materials are still in their infancy and it is a trend that will likely continue to gain traction among companies.
However, to ensure a successful campaign of this nature - whether it be for a limited edition line of products or a long-term strategy - marketers must be able to operate quickly and efficiently. This is why it is imperative that sellers that want to offer personalized products work with a printing provider that allows them to adapt and edit labels and packages in real time on an as-needed basis. They must also be able to ensure a quick turnaround on the print ordering and delivery process.
By partnering with a digital labeling print company that uses best-in-class technologies, brands will be better equipped to adapt their personalized campaigns in tandem with emerging trends and specific needs of their consumers.
Request your FREE instant quote today.