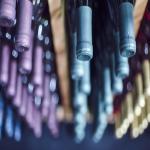 From the Vine to Store Shelves
From August to October, it's harvest time for vineyards in the Northern Hemisphere. That means it's time to think about putting those grapes on store shelves as wine. A refresh of label design could make the bottles more likely to appeal to customers, and there are plenty of great custom wine bottle labels out there for vintners interested in the market. If your find yourself in this situation, it's time to consider whether a new labeling strategy will breathe life into your wines' look and appeal.
Win Shoppers' Eyes with Customized Wine Bottle Labels
It's a great time to be a consumer of wine, as vineyards around the world are putting great products on shelves every year. Standing out among these offerings is a challenge, and the label may be the deciding factor that influences a shopper. This means that it's a mistake to take packaging for granted. Even if a vineyard has an age-old look that it's keen to preserve, there is room to select a new label material or adopt a new printing process to ensure the classic logo looks sharper and more appealing than ever before.
Custom wine labels can be tuned to suit a vineyard's particular character. Maybe one type of wine is meant to have a classical, refined old-world appeal. An earthy, weathered label style could give this elegant impression and attract buyers with developed palates. Or perhaps your vineyard is more interested in appealing to young customers who are interested in fast-paced nights out and fun times with friends. A bright and contemporary set of wine bottle labels could be just what it takes to solidify that impression.
Harvest Time is Time to Plan Ahead
What kinds of bottles will best express the character of this year's grapes? It's time to think about it. No matter how soon you want to begin bottling and packaging your harvest, it's not too late. Lightning Labels, true to its name, enables lightning-fast turnaround times. There's no need to stick with branding that is less than optimal. There is a new, exciting all-digital alternative waiting to take your appeal to the next level.
You can even use the vineyard itself as an effective component of your new labeling strategy. Gathering the grapes from the vines is likely a photo-friendly moment, and when you order custom wine labels from Lightning Labels, the high-definition digital printing process, those pictures can come across clearly and beautifully, giving customers an appetite-enhancing view of where the grapes came from.
Request your FREE instant quote today.