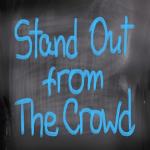 Make a Bright Statement with Custom Vinyl Stickers
No matter what message your brand, organization or club is trying to send, custom vinyl stickers are one possible answer. When you work with an industry-leading printing partner, your creativity can take over. Whether you want a bold, futuristic or elegant look that conjures up the past, there is an option available. Digital printing methods are extremely versatile, and imagery of all kinds looks great. Durable vinyl stickers can get a logo or message seen, and you can choose from a variety of ways to deploy them.
Many Uses for Custom Made Stickers
Stickers are good for internal or external purposes. Either stick them to your own items or hand them out and spread a message wherever the recipients go. Tough vinyl stickers can hold up even when exposed to the elements, and no matter the type of organization you're looking to promote, they can help. Here are a few of their prominent uses:
Political campaign stickers: A candidate's name and logo will look great on a durable vinyl sticker. Alternatively, if you're hoping to get people to support or reject a piece of legislation, saying so in bold text on a vinyl sticker should help the cause. When you're promoting a campaign, going with vinyl sticker printing instead of settling for less tough materials is a can ensure the message stays vibrant until election day.
Business promotional stickers: Are you opening a new retail location? Having a sale? Want to promote your website or social media account? Handing out stickers is a great way to spread any one of these messages. Throw these items in for free when people buy from you, pass them out at community events or partner with other local brands to attach your logo to another campaign - you'll love seeing your company's name around town.
Fun stickers for kids: Maybe you don't have a political campaign to promote or a company to boost, perhaps just some kids to educate or entertain. Custom stickers help here, too. In classroom settings or places where a sticker might be a proud sign of good behavior - such as a doctor or dentist's office - tough vinyl stickers are a top choice.
Small Order Sizes Available
Even if you think your project doesn't need enough stickers to justify professional printing, chances are actually eligible. Lightning Labels can handle small or large batches of custom vinyl stickers, so whether you want a few of a large number of designs, a limited run of stickers for a special event or a huge print run to last for years, you can find what you're looking for.
Request your FREE instant quote today.