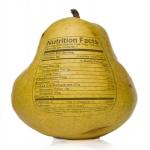 Nutrition Labels Celebrate 20th Anniversary by Supplementing with Images
The U.S. Food and Drug Administration (FDA) celebrated a very special occasion this month: the Nutrition Fact Chart turned 20 years old. The Fact Chart is required on all U.S. food labels to inform consumers of specific nutritional information. As most manufacturers know, the requirements for these labels are very complex and cover everything from caloric values and allergen information to footnote allowance and nutrient value omissions.
Despite the heavy regulation surrounding nutraceutical labels, some researchers believe the labels still aren't informative enough for consumers.
Do Consumers Understand Nutritional Information on Stickers and Labels? With today's consumers becoming increasingly health conscious, many shoppers are paying closer attention to stickers and labels. Especially at the beginning of the year when people are focused on their New Year's resolutions, consumers are keeping an eye on nutritional and ingredient information found on nutraceutical labels. However, a recent FDA-commissioned study suggests more changes are needed to make nutritional information more understandable.
According to the Journal of the Academy of Nutrition and Dietetics, even though nutraceutical labels provide calorie information for one serving, people often miscalculate the caloric value of products that have two or more servings per container.
Images on Labels Help Get the Message Across on Product Packaging The government's nutrition laws impose strict limits on how product packaging can convey nutritional data. At the same time, an increasingly health-conscious consumer pool demands better information. These contradicting trends may make you feel like you're in a bit of rut. What's the solution? Jazz up your nutraceutical labels with images to give customers what they need.
There's a reason newspapers and homepages flaunt large pictures: images are major attention-grabbers. Just like news leaders and websites, consumer product marketers know that too much text on a product label can be unattractive and even overwhelming. Packaging that features bold, unique and recognizable images are most likely to catch shoppers' eyes, both in stores and online.
In addition to getting customers' attention, images can help customers better understand what may seem to them like nutrition fact jargon.
3 Image Ideas for Your Product Labels Not sure what photos or illustrations your brand's packaging needs? Here are three ideas to complement nutritional information:
1. Serving Size As the FDA's study suggests, people have trouble determining serving size when it comes to products packaged in large containers. If your target audience is health-conscious, consider showing what one serving of your product looks like on stickers and labels. This tells consumers that you're attune to their dietary needs, which makes you a reliable brand and strengthens the bond between your product and consumers. In addition, depicting serving size on packaging also shows what your product actually looks like and can increase its recognition.
2. Ingredients Is your product made of natural, organic or heart-healthy ingredients? Flaunt it! Consumers value items that contain healthy foods like whole grains. Another popular ingredient category is high-quality gastronomical ingredients, like aged cheese and sun-dried tomatoes. Incorporate images of these desirable components to spice up and embellish the otherwise bland Nutrition Fact Chart.
3. Warning Labels For products like caffeinated beverages and supplements that may require warning labels, it might be a good idea to include a small but attention-getting image to better inform consumers and gain their trust.
Request your FREE instant quote today.