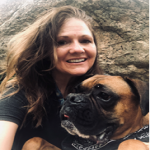 New business development representative Jillian Anderson brings a background in community recreation planning and working with challenged youth to her daily activities at Lightning Labels.
With the company since April 2017, Jillian previously contributed to development of the original Louisville, CO Parks and Recreation Master Plan. She also worked with Outward Bound at-risk youth, ran an adventure camp, and assisted the Jefferson County Sheriff's office supervising recreation in the detention center. She's also held several sales jobs with commercial fitness companies.
Jillian further counseled inner-city disadvantaged youth to help them get jobs and supported them to build and maintain healthy and productive lifestyles. And, she's been a foster mom.
"This job is a natural extension of my previous experience in helping many different types of people work through many challenges. It takes an enormous amount of patience and diverse experience learning how to serve, listen and meet people at their needs," Jillian says. "To be successful as a good business partner, you've got to establish trust, provide reliable service, and be authentic."
She adds, "I took this job because of the company's integrity. While this was a big change career-wise, it's totally aligned with how I've done what I've done all along."
When not dealing with work-related custom label new business development, Jillian is thoroughly invested in her family, leisure-time pursuits, volunteerism and her boxer dog. Because of the pandemic, both children are currently living at home. "I raised two amazing kids. My son is a Navy nuclear engineer, which involves manning nuclear power plants and a high level of training. My daughter is pursuing an aviation degree to become a commercial pilot.
For recreation, Jillian calls herself a "typically Colorado mountain girl." Hiking, white-river rafting, skydiving, camping solo in the wilderness and climbing 14ers are all on the leisure-time list.
She volunteers with the Smoky Hill Vineyard food bank in Aurora to help with a Saturday morning food distribution program.
While her life is jam-packed, she's been able to work from home since March because of the pandemic. "The same week I stopped working at the office, my kids' lives changed a lot. They moved in with me. The crisis curse became a blessing in that I can spend much more family time, including visiting my parents who are in their eighties. I am celebrating life and the beautiful people in it. On top of that, I bought a house the third week in March."
She notes, "All of it has worked out well because of the blessing of the Lightning Labels job. I've been able to take care of my family, keep them safe and watch over them."
Request your FREE instant quote today.