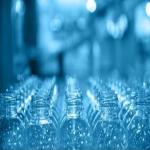 If you bottle and sell water, you've likely faced a challenge when it comes to branding and presenting your products: How do you make your company stand out from competitors' offerings when you're selling something as simple and fundamental as water? The design of your packaging may prove critical in resolving this deadlock.
Just because water is simple, that doesn't mean it has to be boring. Every element of your company's packaging strategy, from bottle shape to label material and artwork choice can combine to create a unique impression. If you put effort into custom water bottle label design, you can present your products as more than "just another brand of water."
Everyday Water Bottle Branding
When labeling a food or drink item, the first consideration is usually the ingredients list and nutrition facts panel. But how does this affect bottled water, where in many cases water is the only ingredient? The International Bottled Water Association explained that to comply with Food and Drug Administration rules, products coming from community and municipal water sources must report this fact on their labels unless specifically exempt.
The FDA added that waters with flavors or nutrients added have to both meet the requirements to be referred to as "water" and label their flavorings and nutrients on their nutrition facts labels. Furthermore, carbonated beverages are generally regulated as soft drinks, not bottled water.
Once you have complied with the rules, it's time to think about the artwork and brand logos that will decorate your label. You can use some of the same tactics that have worked for companies in fast-moving spaces such as craft brewing to make your labels more compelling. For instance, if you are associated with a certain region, using imagery from that area can prove compelling. Furthermore, if your bottles are made with recycled materials or green processes, it may pay to highlight that fact: Consumers today care about the environment, and may want to ensure the brands they're buying from share that value.
Personalized Water Bottles for Special Events
One interesting niche within the water bottle space is creating personalized water bottles that can be handed out at corporate events or large personal gatherings such as weddings, graduation parties and reunions. Putting a company logo or the date of the special occasion on the label can help the planners of these events create a unified theme and visual concept. Having the capability to turn around these special orders is one way to carve out a niche for your brand in the bottled water space - and keeping your logo somewhere in the artwork can help your branding efforts.
Top-Quality Custom Water Bottle Label Printing
Making sure your bottles have well-made custom beverage labels should be a high priority. This extends beyond the visual look of the packaging to your choice of materials and finishes. When you work with an expert partner like Lightning Labels, you can select a material from a variety of tough polymers and earth-friendly recycled options. Finishes include glossy and matte options to complement your visual branding with the right tactile feel. From a sleek and waterproof plastic bottle label to a rough, earthy look and anything in between, you have many options.
Selecting custom size roll labels die cut to fit a unique bottle shape is another way to make your water stand out from the competition. Lightning Labels can make this strategy possible with a wide range of dies to accommodate your exact needs. Lightning Labels' all-digital printing processes make it possible to get the exact number of labels you need, helping you create personalized labels for events. Fast turnaround times and responsive customer service make Lightning Labels the ideal partner for your custom bottle labels.
Request your FREE instant quote today.