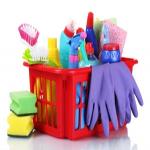 Know the Right Materials for Creating Labels That Last
Creating labels that last requires durable materials. In many cases, your products are going to be in situations where they will be exposed to water, kitchen messes or even outdoor elements. You want to make sure your branding information shows through no matter what environment your product is in. Materials like vinyl or BOPP labels are usually the right choice for products that need to stand up to hard conditions or excessive handling. Regardless of where the item needs to go, the packaging should remain pristine. Having a label that stays put doesn't just benefit the brand, it also helps to ensure consumers will return to your products time after time.
Use Heavy Duty Labels For Outdoor Applications
If you make a product that will be stored or spend a significant amount of time outside, you need heavy duty labels. Vinyl labels are probably your best bet. Flexible vinyl labels can stand up to the elements and make sure your branding information, as well as any directions for use, don't fade away. Labeling is an essential part of your promotional strategy, so it's in your best interest that it remains intact. However, a fading or peeling label is also unattractive to consumers. Make the right labeling choice so you can avoid irritating your customer. To further protect labels from sun or weather damage, you may also want to consider a UV Outdoor Gloss laminate, which can help prevent your designs from fading in the sun. Stronger adhesives can also help product labels remain steadfast throughout the year.
Lost Lasting Labels Inspire Consumer Trust
No matter what kinds of products you create, long lasting labels can make the difference in whether a shopper will return to your product. Labels are part of the functionality of an item. Packaging that falls apart can be irritating for customers. Bath product labels, for instance, should be made with a material like polypropylene BOPP, which is oil- and water-resistant. To increase the longevity of BOPP labels, you can also add a laminate to further protect the product from whatever messes it's exposed to. BOPP pairs nicely with a High Gloss or Matte finish. High Gloss provides a shiny, sleek look, while matte allows you to handwrite on the surface. A durable label doesn't have to be unattractive, either. BOPP comes in several different colors and Lighting Labels offers a wide variety of options to ensure you find a label that reflects your brand.
Request your FREE instant quote today.