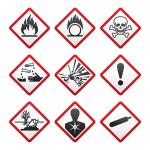 Are Your Products Properly Labeled?
When it comes to keeping kids safe, there's never a bad time. However, November is an especially apt month to ask whether brands and individuals are doing all they can. Child Safety and Protection Month is set aside to raise awareness of any places or things that may be putting kids in danger. If you own a brand that produces household items, how is your labeling strategy? Could new custom child safety labels increase the chances of parents and guardians using the products in the correct way? If so, it's time for a change: If your new approach protects even one child, it's been a success.
Child Safety Labels - Going Beyond the Basics
Great safety labels aren't just about measuring up to regulations and laws governing product packaging. Complying with such rules is non-negotiable, of course, but Child Safety and Protection Month provides a great chance to go beyond the minimums. Choking hazards, sharp edges, harmful chemicals - all sorts of everyday household goods could be dangerous if they're left unattended or used wrong. It's time to take a long, honest look at your products and ensure everything is properly labeled.
Items that deserve child safety labels include a wide swath of products. Items designed to protect kids, such as car seats, need accurate information on proper usage. Products that might be present in the kitchen or bathroom, such as cleaning chemicals, should have clear warnings. The people who need to see these labels aren't necessarily the children they're designed to protect. The most vulnerable kids are too young to know what the warnings mean, and their parents or other guardians are the ones who really need to get the message.
Well-Marked Workplaces and Homes
Items that might end up in public places and businesses are just as important to label as those designed for the home. Child Safety and Protection Month is a time to ponder whether adults are doing enough to ensure kids don't end up hurt, no matter where they may be. Businesses with equipment or areas that pose a risk to children - from hot surfaces to long drops and everything in between - should ensure they are marked. An order of custom stickers with appropriate warnings can provide the necessary warnings and info.
Time to Order Child Safety Labels and Stickers
No matter how you want to label your products or workplace, it's time to take action. While November is already underway, there is time to launch the new initiative before December. Lightning Labels uses all-digital processes and domestic rather than outsourced facilities to ensure that clients get their orders in a matter of days, not weeks or months. You can choose your material, too - tough options may be best for child safety labels and stickers, to ensure they don't fade over time and keep imparting their important messages.
While you may believe too many warning labels make your products lack appeal for customers, there's no such thing as too much caution. Shoppers will see that your brand or business has their children's safety in mind, and be glad for your preparedness.
Request your FREE instant quote today.