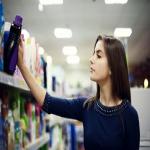 Learn How to Make Labels to Boost Branding Efforts
Are you looking to rebrand your business? One of the most crucial aspects of branding is product appearance, and learning how to make labels that flaunt your goods and resonate with consumers is a must. No matter what you sell, unique, attractive and informative labels can lead shoppers to scope out your products and keep existing customers interested in what you offer. Whether you're looking to reboot your brand for the upcoming holiday season or give it an upgrade for long-term marketing goals, Lightning Labels' custom label printing can help you create packaging designs that give your products just what they need to stand out on store shelves and online.
3 Important Steps for Creating a Custom Label That Speaks to Consumers
There are few important things to keep in mind when designing a custom label that attracts new customers and keeps past ones hooked on your brand. By doing the right research on consumer preferences as well as label-making options, you can create a label that both commands consumers' attention and doesn't wear out your budget.
1. Before Label Printing Begins, Know What Customers Want: One of the best ways to determine how consumers will react to your product packaging is simply by asking them. Relying on focus groups often proves beneficial for brand marketers during the conception stages of a new product idea, whether you create your own water bottle labels, hot sauce, candles, soap or anything else. These research tools can also help marketing professionals gauge firsthand how consumers will react to custom label printing designs. Focus group questions can allow you to determine what elements of a design appeal to your target customer base and which should be revised.
For brands that may not have the budget or resources to enlist a focus group, consider asking employees outside of the marketing department what they think of custom label designs or try crowdsourcing through social media. Employees and fans may provide insight into consumer behaviors you may have otherwise overlooked.
2. Calculate Rebranding Costs Accurately: It's important to keep an eye on how much each element of the rebranding process costs. Large price tags for certain marketing services can add up, leading brands to struggle to find a balance between cost and quality. Luckily, with Lightning Labels, you don't have to worry about sacrificing the value of labeling solutions for a great price. Our printing process eliminates or minimizes fees and other costs associated with outdated printing methods, which allows you to receive high-quality labels at affordable rates.
3. Take Labels on a Test Drive Before Committing to a Design: Creating the perfect custom label can take time. After researching consumer preferences, labeling costs, and other factors that play into the label-making process, you want to ensure your design is perfect for your products. That's why it's a good idea to test labels before finalizing them. Lightning Labels offers competitive pricing on short-runs, which means you can order a small sample batch. Additionally, our quick turnaround allows businesses to modify their designs and receive updated labels within days.
Request your FREE instant quote today.