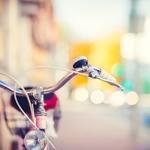 Include Safety Warnings on Bike Product Labels
May is National Bike Month, which means there's no time like the present to promote bike safety via product labels on the vehicles themselves, as well as adding the stickers to accompanying accessories.
National Bike Month has been held every year since 1956 and includes events such as Bike to Work Week and Bike to School Day. With event sponsor the League of American Bicyclists and numerous local bike shops and organizations gearing up to draw attention to the various benefits of biking, it's important to pair these encouraging messages with safety warnings. After all, riding a bike may be a healthier, less costly and more environmentally friendly form of getting yourself where you need to go, but if you don't follow the rules of the road or fail to take precautions such as wearing a helmet, you could end up pedaling into disaster - and that's where warning labels come in.
What Tips Should Bike Safety Stickers Provide?
If you're wondering where to start when it comes to crafting bike safety stickers, the National Highway Traffic Safety Administration's website is a great resource. Encourage riders to:
• Wear a properly fitted helmet • Inspect the bike before riding • Dress in bright colors and reflective gear • Stay alert and watch out for road hazards • Follow traffic laws • Ride with at least one hand on the handlebars • Avoid riding at night • Yield to traffic and pedestrians when appropriate • Look before turning
Make Safety Labels Pop
Imparting information that may help to keep bike-riders safe is important, but if safety labels aren't eye-catching and attractive, the tips are more likely to go unread. Make sure this doesn't happen by partnering with Lightning Labels.
Even if you only want to print a small number of custom labels and stickers, Lightning Labels' low minimums and inexpensive unit pricing will be able to accommodate your requirements and restrictions. However, don't associate the low cost with low quality. We offer a wide variety of different label materials, finishes and hues, but one thing's for sure: You'll get professional-quality labels with vibrant colors, clear and easy-to-read text, crisp designs and, if needed, the ability to withstand water and heat. Let Lightning Labels help you get the word out about bicycle safety this National Bike Month!
Request your FREE instant quote today.