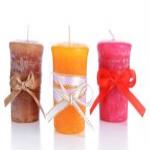 The candle industry is a unique space for custom candle labels and stickers. Products that deal with open flames require labels that contain vital safety information and stand up to heat.
Candlemakers can discover these kinds of custom candle labels at shows such as the National Candle Association Conference & Expo. This year's edition of the event will be held in Weston, Florida, between April 17 and 19. Lightning Labels representatives at Booth 14 will be happy to show how an idealized labeling strategy can drive candle sales.
Experience the Show
The 2018 National Candle Association Conference & Expo is part of a long tradition of industry events hosted by the organization, dating back to 1974. Throughout the three days of the gathering, candle professionals can learn from their fellow business owners and discover new products on the expo floor. From marketing advantages to product safety musts, the topics of discussion are targeted directly at the needs of the candle-producing sector, and the suppliers on hand are ready to take businesses to the next level.
Among these vendors is Lightning Labels. Come to Booth 14 to discover the advantages of having the right labels on your custom candles. Whether you sell your products yourself or through stores where they must compete with other brands, eye-catching labels can encourage consumers to try your items and stay loyal over time. Due to the safety requirements governing labeling in the candle sector, it's vital that you don't settle for lesser-quality offerings.
Get the Right Labels for Candles
With experience in producing candle labels, Lightning Labels representatives can guide you through the process of getting the right combination of bold branding and safety information, all while using materials that conform to industry fire-resistance standards. Our team will be happy to talk to you about our offerings at any time online or by phone, but if you're in Florida for the expo, join us in person and see these labels for yourself.
Request your FREE instant quote today.