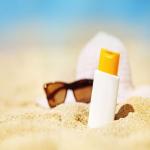 Creating lotion bottle labels comes with extra challenges compared with other kinds of product packaging design. This is true whether your company makes moisturizing skin cream, sunscreen or any other kind of lotion.
Since lotion labels will potentially be exposed to moisture or oils, you need a durable material for labels. This lets you create packaging tough enough to stand up to harsh conditions and still look great. Sunscreen bottles may end up outside, which adds the extra threat of ultraviolet rays from the sun causing the labels to fade away.
When lotion labels are used on squeezable tubes rather than rigid bottles, that adds yet another complication. Your lotion label material must be strong enough to bend without developing wrinkles and creases.
Add in the need to include specific label information based on the type of product — ingredient lists, SPF ratings and more — and you can see why designing lotion bottle labels is a challenge. When your packaging strategy succeeds, however, the results are worth the effort. Customers in stores are looking to labels to help them make important decisions about what to buy.
Labeling Different Types of Lotion Products
Lotion labeling best practices depend on the type of product inside the bottle, tube or jar. Meeting Food and Drug Administration (FDA) requirements is an essential step in creating lotion labels, because a mistake could end in the FDA taking action against your brand.
What does it take to get in compliance and ensure your products get approved to stay on store shelves?
Sun lotion products: When you're creating suntan lotion labels or sunscreen labels, you are bound by legal requirements to accurately describe how effective your product is at protecting people from the sun.

The FDA requires over-the-counter sunscreen products to state their results of the Sun Protection Factor (SPF) test, and companies must label their items differently depending on whether they've passed the Broad Spectrum Test. There are also required directions and warning statements, some only applying to products that don't pass the Broad Spectrum Test or have SPF under 15.
Health and beauty skin creams: Moisturizers and other skin creams don't have the same in-depth requirements as sun-blocking creams, but they are still regulated by the FDA. Manufacturers of bath and body products have to make sure the statements they make on their lotion bottle labels meet approved standards.

The main requirement with cosmetics is that producers give accurate information about the product — what it is, its quantity, and its ingredients. The FDA maintains specific rules about claims on labels. Lotions, creams and other cosmetics are not allowed to make certain claims without the ability to back them up. One especially important point of contention around beauty product labels is whether an item is a drug or not. Anything that claims to treat or prevent diseases or have another kind of impact on the body is a drug and has to be tested and approved as such.
Once you've made your labels comply with relevant FDA regulations, it's time to make sure your labels will look great on store shelves. This means giving ample attention to visual elements, while also ensuring your chosen custom label material is strong enough to stand up to the elements.
Creating Tough, Well-Designed Custom Lotion Bottle Labels
Every type of lotion packaging has its own ideal kind of label. Clear lotion bottles may be best suited to small, die-cut labels or stickers that allow the bottle to show through. Opaque jars can be wrapped in larger labels that bear the brand's colors, logos and other design sensibilities. Squeeze tubes demand labels that don't just suit their unique shape, but will also stay unwrinkled, no matter how many times customers squeeze the tubes.
The graphic design portion of lotion bottle label creation will vary significantly based on your company's brand identity. If you're making sunscreen, bright colors that promise fun in the sun are a great bet. For bath and body products, soft shades that will fit in perfectly in customers' bathrooms may be more suitable.
In any case, all the elements on your labels should work together to create a harmonious, understandable impression. Is your brand all about excitement, or is it more soothing and serene? Are you looking for a sleek, modern look or hoping to evoke a wholesome, homespun quality? From picture selection to font choice, your graphic design cues build this brand identity.
Working with an Ideal Label Printing Partner
To ensure you receive high-quality lotion bottle labels that match your ambitions, you can strike up a partnership with Lightning Labels. With all-digital printing methods and a variety of tough, water-resistant label materials, Lightning Labels can quickly deliver custom lotion labels that will stand up to tough treatment, whether you need a few hundred labels or thousands.
Lightning Labels has spent over two decades helping companies of all kinds with their packaging, and can assist with any aspect of the production process, from custom label design consulting through printing and re-ordering. Request a free quote to get started on your labeling journey.