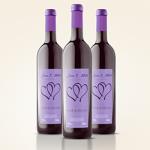 It's Simple to Learn How to Make Wine Labels
[caption id="attachment_7826" align="alignleft" width="234"] How to make wine labels that leap off the shelf.[/caption]
Whether you own a small winery and need eye-catching labels for your bottles or you want to add a personal touch to a housewarming gift, Lightning Labels can show you how to make wine labels.
Lightning Labels makes it easy. Just choose the label, shape, size, material and laminate and instantly you get a quote for your potential order. After that you can customize the labels to exactly match your wishes, whether it's color, a company logo or specific wording.
Make Your Own Wine Label and Make a Statement
It's especially important to make your own wine label for resale purposes. When shopping, a customer is likely to choose a bottle based on its label design, so you need to make yours stand out. The graphics, colors and professional look can make the difference.
Wine labels aren't just for selling wine. If you're headed to a housewarming party or wedding shower, add a customized wedding wine label to your gift bottle to show your sentiments.
With digital label printing, labels are easy to read and full of vibrant color. Everyone will be impressed with how high quality and professional your labels look.
Create Your Own Customized Wine Labels
Customization is the key when you create your own wine labels. Choosing different materials will say something about your personality and your wine whether you prefer labels with a little bit of texture or something eco-friendly.
Additionally, Labels come in all sizes, shapes and colors. Don't be afraid to experiment and step outside the traditional label confines. These labels should make a statement about you and your brand, so feel comfortable putting it out there. Dynamic colors and interesting shapes can snag a passerby's attention.
Lightning Labels uses state-of-the-art digital printing technology to provide affordable, full-color custom labels and custom stickers of all shapes and sizes, and a full line of custom packaging products. Lighting Labels prides itself on its personalized customer service and provides one stop shopping for all of your label and product packaging needs.
Lightning Labels is America's first label printing service based exclusively on digital printing technology, which enables it to produce orders both small and large at competitive prices. Visit Lightning Labels on the web today for the best prices for high quality, state-of-the-art custom label printing - satisfaction guaranteed.
Request your FREE instant quote today.