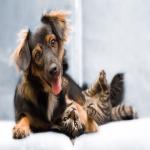 When you're designing and marketing pet products, there's a complicated balance to keep in mind. While ultimately the items are designed to make animals happy and healthy, you first have to win over those animals' human owners.
Custom pet product labels are a vital piece of marketing and promotion, reaching a pet owner at the critical moment when they decide between one brand and another. Whether you're producing pet food, pet care items, pet toys or anything in between, focus on packaging design to win customers over when it counts.
Custom Pet Product Labels: Must-Have Features
While creating an appealing look for your pet products is the fun part of label design, you also have to check off a few requirements. The exact rules governing pet items differ depending on what the product's purpose is, as the American Pet Product Association explains.
For example, while you have to meet specific Food and Drug Administration and Department of Agriculture requirements for pet food, other product labels must simply follow the Federal Trade Commission rules for human goods — that is, clear information and no false claims. When it comes to pesticides, including flea collars to specialty shampoos, there may be extra rules to follow per the Environmental Protection Agency.
It always pays to do some research into the exact types of items you're manufacturing to make sure products and labels alike meet all relevant standards. For instance, the APPA adds that pet clothes might have to meet the same FTC fabric labeling rules as other garments.
Visual Design Trends and Ideas for Custom Pet Product Labels
Ensuring your label meets compliance is vital to avoid fines and keep your goods on shelves. Once you've met that obligation, however, the creative part begins: now it's time to use packaging design to convince shoppers to pick your pet products over competing items.
Pet Food Processing ran down some of the most exciting ideas that pet product companies have turned to in recent months as they compete to design compelling labels. For instance, some brands with a premium focus have targeted eco-conscious customers with sustainable packaging. A recycled or green label material can become a central part of a brand's marketing push.
Many brands have also decided to focus on large, bold imagery that will be recognizable when customers merely see a picture of the package. This is because more consumers than ever are buying pet products online. Pet Food Processing added that still more producers have embraced the potential of advanced label features such as QR codes. When consumers can interact with a package through a brand app, that adds extra value.
From compelling imagery to clear information, every element of pet food labels should be tuned to appeal to buyers. Design decisions can go beyond the content printed on the custom label itself to incorporate label material, finishing treatment, size and shape.
The Right Partner for Custom Pet Product Label Printing
Whether you're creating cat or dog food labels, pet toy packaging or anything in between, your labeling strategy can be the final variable that wins customers over. This level of importance demands a high-quality label printing partner, just as if you were designing custom packaging for more general products.
From canned food labels in a variety of materials and finishes to advanced labels equipped with QR codes or other added features, Lightning Labels can provide the ideal pet product packaging solution for your brand. Pet owners want their animal companions to have the best of everything, and premium custom label use can convince them that your brand will meet their needs.
Request a quote now and take the next step to get custom pet product labels for your product line.